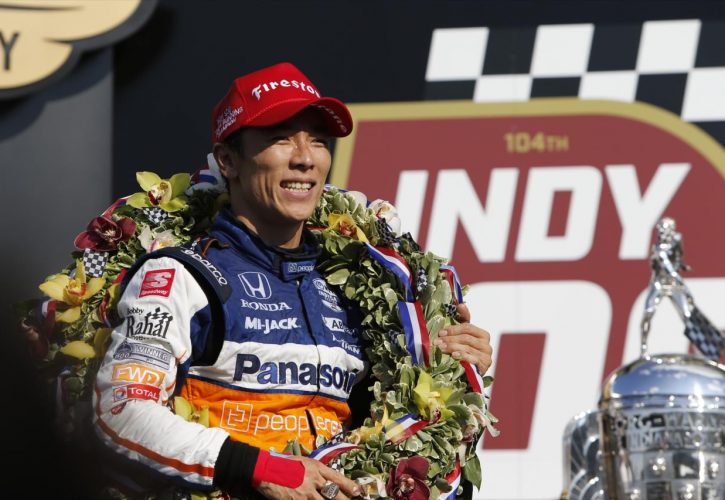 Takuma Sato, the winner of the 104th running of the Indy 500, never imagined that he would still be going strong at 43 and "living the dream" in IndyCar.
The Rahal Letterman Lanigan driver added on Sunday his second win at the Brickyard in three years, beating Chip Ganassi Racing's Scott Dixon in a thrilling finale that was unfortunately terminates with a handful of laps to run following a massive crash by his RLL teammate Spencer Pigot.
But crossing the line under yellow flags took nothing away from the former Jordan, BAR and Super Aguri F1 driver's joy or from his resounding achievement.
"Look … over 40-years-old, still driving, that's just living in a dream," said an elated Sato, quoted by Reuters. "I never even imagined a situation like this.
"People say 2012 was probably my peak and the best shot… we kept on going.
"We had a second chance in life. I say keep challenging, keep open the door, then you'll get eventually the chance.
"I never thought my racing life would go on any longer than Formula 1. Now I'm competing here more than 10 years."
Sato headed to America in 2009, after a seven-year presence in F1 that had yielded just a single podium finish - precisely at the US Grand Prix at Indianapolis in 2004.
He began his career in IndyCar in 2010 with KV Racing and took it from there, winning his first race at Long Beach in 2013 with A.J. Foyt Enterprises, aging in America like a fine wine and blossoming at 40 when he joined Andretti Autosport in 2017, becoming that year the first Japanese driver to win the Indy 500.
For most of Sunday's race, Dixon appeared to be the man in charge on Sunday, assuming a total of 111 laps in the lead. But Sato, a driver who typically comes into his own in a race's closing stages, overhauled his rival as the race entered its final 25 laps.
Sitting on Sato's tail, Dixon was ready to pounce when Pigot's crash permanently neutralized the race. And perhaps for the better as far as the low-on-fuel Sato was concerned.
"We all knew and observed that Scott was the best competitor for really the entire two weeks," Sato gracefully acknowledged.
"Dixie and Ganassi did a phenomenal job to always have the car in the competitive situation.
"He led the start, and then just disappeared. I was able to hang on at that time, I was playing with mixtures, seeing how much fuel mileage we could get out of it.
"However, after the pitstop when I took the lead, I got a voice from the pit that I was using too much fuel, so I had to back off and lean the [fuel] mixture, and as you could see immediately Scott caught me.
"At this point I had to switch back to maximum power and so when he was three cars or four car [lengths] behind, I would go back to the leaner mixture.
"And we were close. No doubt, that last yellow saved us, but even without it I was meeting the [fuel] number. Even if we had gone through entirely green, I think we would have been OK.
"However, still I think I would have been threatened from Dixie for the last few laps when he would probably have been 100 percent rich power.
"I had some of that in the pocket, but otherwise it was very, very close."
Gallery: The beautiful wives and girlfriends of F1 drivers
Keep up to date with all the F1 news via Facebook and Twitter