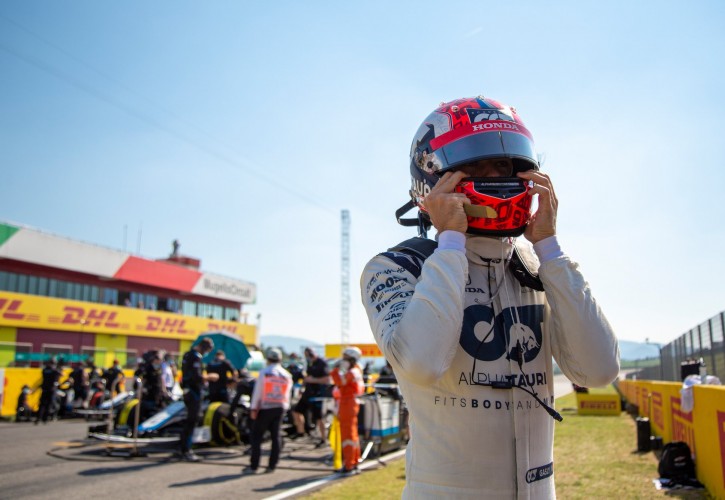 Pierre Gasly says AlphaTauri has "big ambitions" in F1, with the sister Red Bull squad aiming to build its "own space" inside the sport.
Gasly sprung a massive surprise at Monza earlier this month, winning his first Grand Prix and delivering its second F1 success to the Faenza-based outfit, twelve years after Sebastian Vettel's memorable maiden triumph for team and driver at the same venue.
The win represented a form of sweet revenge for Gasly who was downgraded from Red Bull to Toro Rosso mid-season last year, and sparked speculation about a move back to the senior bull team for the Frenchman.
But RBR team boss Christian Horner has since put paid to that prospect, at least for now.
However, Gasly's future with AlphaTauri is anything but a dead end, with the small Italian outfit aspiring to grow its ambitions. And the Frenchman is excited but what he sees ahead.
"There's a clear will and a lot of ambitions coming from AlphaTauri," said Gasly. "I think it's a different situation to Toro Rosso/Red Bull, and how it was before.
"I think the project is exciting. As I said at the moment, the Red Bull team is clearly the top team of the two, but I think that the ambition of AlphaTauri is to, at some point, match their performances.
"And this means we also need the resources and to have bigger facilities to have this sort of thing."
Gasly says AlphaTauti's advancements and goal of becoming a top contender in its own right won't happen overnight, but will follow
"I think it's clear that they have big ambitions," he added. "It's not a one-year project and we know how long it takes for a team to really build its identity and also its status as a top team.
"So it's something that is probably going to take some time, but I think it's not really a sister team as much as it could have been in the past. It's more trying to make their own space inside F1."
Horner backed up Gasly's view on AlphaTauri's ambitions, insisting the latter is no longer a junior team.
"Obviously AlphaTauri is a rebranded team for this year," said Horner, quoted by Motorsport.com. "I think their aspirations are beyond where Toro Rosso's were.
"We have a synergy project within the regulations. For example, the sharing of the wind tunnel will happen for the first time next year, which makes complete sense from a financial perspective.
"The tools we are using, the model size, AlphaTauri will be utilising the same equipment, the same tunnel, and of course that will hopefully be helpful to them in their development, particularly with the 2022 car being such a significant change.
"The regulations are now clear, the grey zones have been taken out in terms of what is and what isn't allowed and hopefully AlphaTauri will now benefit from that."
Gallery: The beautiful wives and girlfriends of F1 drivers
Keep up to date with all the F1 news via Facebook and Twitter