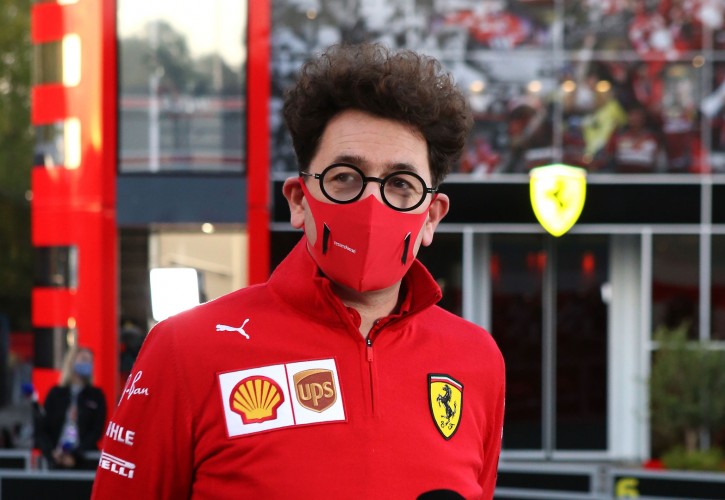 Ferrari team boss Mattia Binotto is likely to skip this week's Turkey GP as the Swiss engineer remains in Maranello to focus on the Scuderia's 2021 program.
Ferrari is already hard at work on next year's contender, the car it hopes will help the Italian outfit pull itself up the grid after a dismal 2020 campaign.
But such has been the Scuderia's shortfall this season that any significant improvements will require a massive effort from the Scuderia across all of its units and departments at Maranello.
As Binotto targets a turnaround of his team's fortunes, the Swiss feels that part of time will be better spent back at base rather than trackside in the future.
"You need always to balance your tasks at the racetrack and at the factory, still the factory is important where we are developing the car, preparing the cars," he said.
"I think I will not follow all the races, even in 2020 I am already considering eventually skipping some of the racing in the last part of the season starting from Turkey.
"Because at the end, when you're responsible for an entire team, certainly the race event is important, but the entire… management of the entire team is even more important.
Ferrari's compelling under-performance this season was rooted in a serious of factors involving both the SF1000's aerodynamics and its power unit.
Regarding the latter, Binotto revealed at Imola that next year's unit has delivered "very promising" results on the dyno.
"I think that next year we may have a completely new power unit. As Ferrari we have invested a lot in developing further the power unit for 2021, furthermore for 2022, the engine is currently running on the dyno.
"I think that the feedback in terms of both performance and reliability are very promising."
Gallery: The beautiful wives and girlfriends of F1 drivers
Keep up to date with all the F1 news via Facebook and Twitter