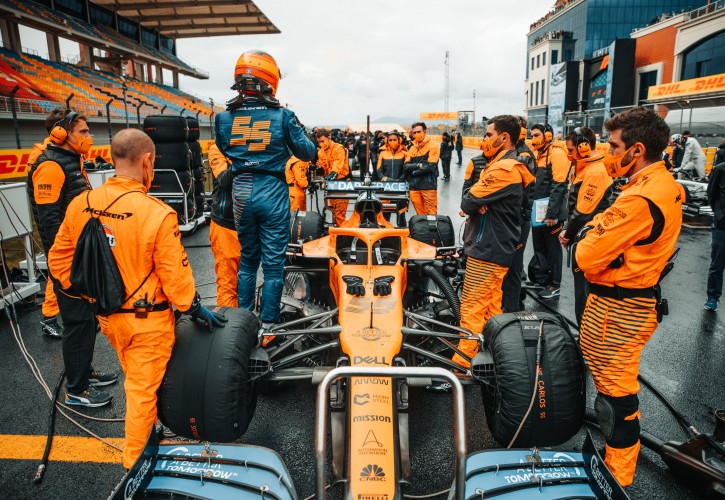 McLaren F1 boss Andreas Seidl says last weekend's challenging Turkey GP was another race in which Carlos Sainz proved his qualities and justified why Ferrari went after him.
Sainz finish fifth at Istanbul Park after a solid drive in the wet and murky conditions.
For Seidl, the performance was another display of the Spaniard's talent and experience, both of which have greatly benefitted McLaren this season.
"A race like [Turkey] just confirmed the quality Carlos has," said Seidl, quoted by Motorsport.com
"We know from previous races in the last years that he likes all of these tricky conditions, he likes these wet or mixed conditions, we know that he is performing well in these conditions, and that he has this talent to take the right approach in terms of risk.
"And he manages to keep the car on track while still making progress on track, and making the moves stick like he did today. And it's simply a big benefit."
Seidl says last weekend's challenging circumstances also underscored the importance of the well-oiled relationship that exists between Sainz and McLaren race engineer tom Stallard.
"Also [it helps] if you have a driver that works for some time already with his engineer, and his engineering team, because in conditions like today, you have a lot of communication ongoing between driver and the pit wall," explained Seidl.
"And there you see also the experience Carlos has, because it's important then to stay brief on the radio, calm but also clear of what's going on out there at the track, so that we can match this with the data we see on the pit wall, and that in the end makes them make the right decisions at the right time.
"He's a great driver. There's a reason why Ferrari went after him for next year."
Next week, Sainz will head into his final three races with McLaren before moving on to Maranello. But Seidl says the 26-year-old's attitude has been exemplary ahead of the team and driver's parting.
"I really like also the approach, how he deals with the situation, together with us, fully committed, very motivational for the entire team," said the German.
"And that's key I think also for the results we are getting together with him at the moment.
"So I'm really looking forward to the last three races with him in our team, and then hopefully we beat him next year!"
Gallery: The beautiful wives and girlfriends of F1 drivers
Keep up to date with all the F1 news via Facebook and Twitter