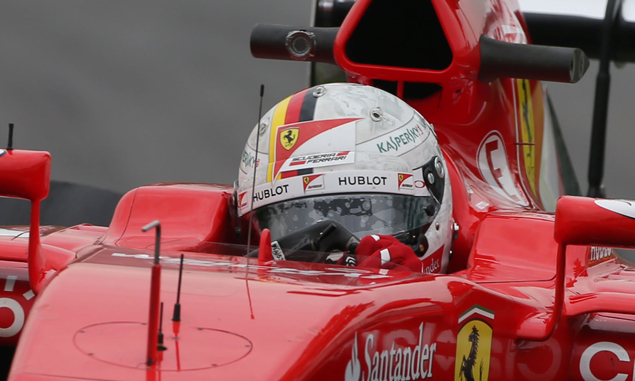 Sebastian Vettel was back in action behind the wheel of an F1 car on Tuesday, with the four-time world champion testing the 2014-spec Ferrari F14T at Fiorano.
According to Italian publication La Gazzetta dello Sport, Vettel's laps around Ferrari's private track were part of a promotional event, though a team's spokesperson told Autosport the running served as "a correlation test with the simulator".
However, the Scuderia could not trial new parts and components on the machine they ran, something made clear by Article 10.2 of the 2016 sporting regulations, which refers to "Testing of Previous Cars" (TPC):
"[TPC] shall be defined as any track running time, not part of an Event, in which a competitor entered in the Championship participates (or in which a third party participates on behalf of a competitor or a supplier of a homologated power unit), using cars which were designed and built in order to comply with the 2012, 2013 or 2014 Formula One Technical Regulations.
"TPC may only be carried out with cars built to the specification of the period and only tyres manufactured specifically for this purpose may be used."
La Gazzetta dello Sport also indicates that Ferrari asked for the FIA's green light to carry out the test, as per the regulations.
Next on Vettel's schedule is the upcoming two-day Pirelli wet-weather tyre test at Paul Ricard, with the German set to return to the cockpit of the SF15-T he raced to three wins in 2015 at the former French Grand Prix venue.
Key dates for the 2016 F1 season