Sergio Perez revealed that he was once "kicked out" of an F3 test with Red Bull as he was deemed too slow to make the grade.
After ten seasons in F1, and seven with Force India/RacingPoint, the Mexican has been handed a big break by the energy drink company that will see him race this season alongside Max Verstappen at Red Bull Racing.
Perez's opportunity with the Milton Keynes-based outfit will hopefully allow him to add to his track record which includes just a single Grand Prix win, achieved last year at Sakhir.
Perez graduated to F1 in 2011 with Sauber as a member of Ferrari's young driver program. But the 31-year-old's destiny in the sport could have perhaps unfolded differently had he not failed to impress Helmut Marko during an early junior test with Red Bull set up by his Mexican benefactor, Escuderia Telmex.
"In 2007, I was invited through my programme to do a test," Perez recalled on F1's latest episode of its Beyond the Grid podcast.
"It didn't go well. I had an issue with the seat, because my knees were hitting the wheel, so I couldn't turn. So I was quite far off the pace. I thought that I was going to be able to sort out the seat and so on.
"When I went back, I was just kicked out. I didn't have an extra chance. I was too slow. It was all about lap time. I was just kicked out. I think that was in 2007 or 2006.
"Then I went into Formula 3. I was racing against the Red Bull drivers, and I was leading the championship. I saw him Marko] at Silverstone. 'Helmut, how are you?'
"'We will beat you, we will beat you', he was telling me. So, OK, 'have a nice day Helmut.'"
Perez stepped up from British F3 to GP2 in 2009 with Arden, the team owned by Red Bull team boss Christian Horner and his father Gary, a connection that led to another tentative conversation about hooking up with Red Bull.
"The other conversation was once in GP2, my first year with Christian," Perez said.
"After one good race I did in Silverstone, he came to me and said, 'hey, what are you doing?' and so on.
"He told me, 'hey, you're doing alright, but you have your own driver programme, you don't need me.' That was the final conversation that we had, that I remember."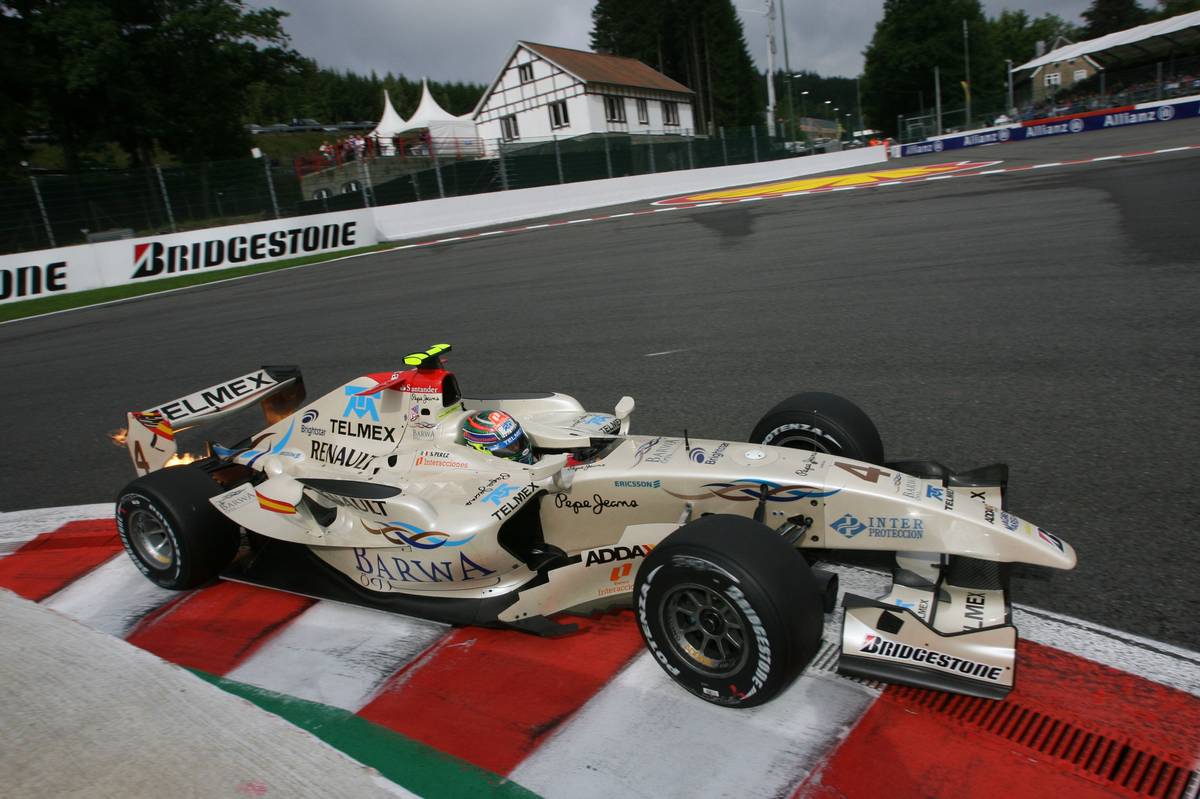 Perez enjoyed a strong second season in the feeder series, securing five wins, including the main race at Monaco, and finishing runner-up to Pastor Maldonado in the championship, performances that led to a race seat with Sauber for the 2011 F1 season.
The Mexican rarely stops to ponder what may have been had he joined Red Bull in the early stages of his career. However, he is grateful of the opportunity to race this year with the former championship winning squad.
"Who knows what would have happened, what opportunities I would have got?" Perez said.
"[It] definitely helps to be part of that junior programme. But I just have to say that I'm extremely thankful to [Dietrich] Mateschitz, to Helmut, Christian, Adrian [Newey], all the Red Bull family, because to give me this opportunity, it's something great.
"They are driven by results. And no one before gave me the opportunity to be in a top car, so I just have to make sure that I deliver now."
Gallery: The beautiful wives and girlfriends of F1 drivers
Keep up to date with all the F1 news via Facebook and Twitter