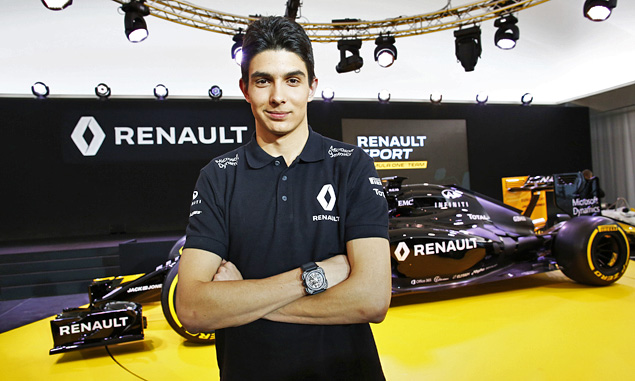 Newly-signed Renault reserve driver Esteban Ocon has admitted that he's not sure yet if he will be taking part in any Grand Prix weekends in 2016, or whether he will be competing in any other championships in the next 12 months.
Ocon had previously been linked with a move to the German DTM series - won last year by fellow Mercedes protégé Pascal Wehrlein who has now clinched a deal to join the Manor Racing team in Formula One. However, that option has appeared less likely despite fresh rumours in the wake of Wehrlein's F1 call-up.
"I don't know if I'm going to go to DTM, so who knows?" he told journalists last week. "It's not sure, nothing's decided at the moment."
Ocon was equally unsure whether his new role as test and official reserve driver would see him take part in any of the Friday morning practice sessions at Grand Prix events in 2016.
"I don't know at the moment," he admitted. "If they want me to be in the car, to drive the car, then I'll be ready for sure. It would be really good preparation."
The 19-year-old from Normandy, France currently doesn't know whether he will be be on track anywhere this season, or whether he will be able to compete in another championship to keep himself race-ready.
"I have to be at all the [F1] races already, so that will take me a lot of time," he pointed out. "I don't know where I will be racing, or if I will be racing at the moment.
"It's not decided yet. In the very soon future, we shall know where I will be."
Ocon won the 2015 GP3 Series championship by a narrow margin after beating longtime points leader Luca Ghiotto in both of the final two races of the season at Abu Dhabi in November. Along the way he scored a run of nine consecutive second place finishes at Silverstone, the Hungaroring, Spa, Monza and Sochi.
For the time being he has to be content just to be within literal touching distance of his Formula One dream, and was busy admiring the new Renault livery close-up.
"It's quite nice - I was expecting more yellow," he laughed when asked for his opinion. "It looks pretty good in black, and matte at the back with the Renault Sports sign. I like it - elegant!"
Ocon had previously confirmed that he remains part of the Mercedes driver development programme despite being out on loan to rival manufacturers Renault for 2016.
"I'm still a Mercedes driver. My career is still managed by Mercedes and Toto Wolff, and thanks for them and Mercedes and Renault to find an agreement for me to get this opportunity. It's a great opportunity to be part of the Renault Sport F1 team and it's great they found a solution for that."
That said, Ocon professed to be entirely ignorant as to the details of how the deal actually came about.
"It's not my part of the job to deal with that," he said. "What I do is focus on the track, focus on myself training, and be fit to get in the car. On the other side [management], I'm not dealing with that. It's not my job."
Mercedes still digging for F1 power unit gold
Force India winter diary part five - Car build
Key dates for the 2016 F1 season
Keep up to date with all the F1 news via Facebook and Twitter