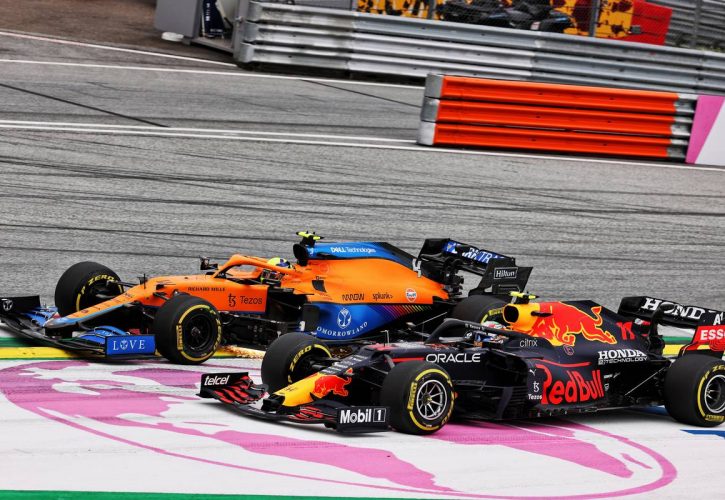 Lando Norris reckons the five-second time penalty he was given following his early tussle with Sergio Perez cost him second place in Sunday's Austrian Grand Prix.
Norris launched his race for the first time from the front row alongside poleman Max Verstappen. The McLaren driver held his own behind the Dutchman on the opening laps but was challenged by Perez on lap 4, on the restart after the Safety Car period.
The Red Bull charger attempted to overtake the McLaren on the outside of Turn 4 but found himself in the gravel as Norris carried his line through the corner, a move frowned upon by the stewards who handed the Briton a five-second time penalty.
Unsurprisingly, an unhappy Norris was at odds with a decision that many considered as harsh.
"He tried to go around the outside which is a bit stupid, and he ran off the track himself," recounted a bitter-sweet Norris.
"It's his risk to go around the outside, he knows there's gravel there, you watch any other junior series, any time anyone tries to go around the outside and doesn't commit to it, they end up in the gravel.
"I didn't even squeeze him off. You understeer around the corner anyway, he should have expected that he wasn't going to make it.
"It cost us P2, we had the pace to be ahead of Bottas, especially on the second stint. Just would have loved to be second and not third again, just there, cementing myself a bit more."
In addition to a time penalty, Norris was also handed two penalty points for his misdemeanor, bringing his rolling 12-month tally on his licence to 10, with 12 points yielding a one-race ban.
However, the Briton will have two points shaved off his total before this month's British Grand Prix per the rolling 12-month cycle.
Norris kept Hamilton at bay for 20 laps and lost third to Bottas after serving his penalty. But damage on the leading Mercedes encouraged the Brackley squad to swap its cars, allowing Norris to overhaul Hamilton and finish his race just two seconds behind Bottas.
The Briton admitted that his McLaren's race pace and his ability to challenge Mercedes had surpassed his expectations.
"We were definitely a bit quicker throughout the whole race than we were expecting," he said.
"The Red Bull was completely gone with Max, but the Mercedes seem to struggle a bit more on this weekend, we seemed like a step closer.
"But I also just pushed like a lot more on that first stint. I knew that if I could just go with them I could create a gap with the guys behind, then there was almost less risk from doing that even if my tyres degged off.
"The car was so much better to drive than last weekend, we need to understand why. I know the reasons of why it was so much better but understanding how that was done, the car setup, the wind, the temperature – it was a lot colder than last weekend – all of these factors need to be taken into account.
"They definitely helped us today, but also the car was good and the team did a really good job with improving everything and taking that step forward that we needed.
"It's nice to know that we can be there and we can race them, it's probably the first race in many years of actually racing a Mercedes and the Red Bull.
"But yeah, hopefully we can keep it up next time.
Gallery: The beautiful wives and girlfriends of F1 drivers
Keep up to date with all the F1 news via Facebook and Twitter