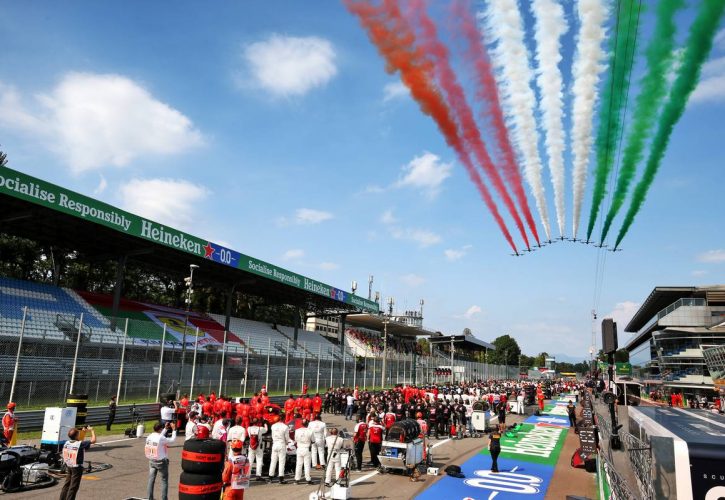 Formula 1 has confirmed that Monza will host the sport's second Sprint Qualifying trial as part of this year's Italian Grand Prix.
The innovative format was tested for the very first time at Silverstone last weekend and was fairly well received by fans and competitors alike.
Monza was earmarked at the outset as one of the three tracks where Sprint Qualifying would be added to the weekend schedule, but the Italian Grand Prix promoter has confirmed the timetable for the fourteenth round of the 2021 F1 World Championship that will take place from 10-12 September.
Friday's first practice will begin at 1:30pm local time, while the one-hour qualifying session will kick off at 6pm. On Saturday, FP2 will take place from 12pm to 1pm, and the 18-lap Sprint Qualifying event will start at 4:30pm.
Initially, Interlagos was listed as a potential third venue to trial the new format, but F1 is holding out for now on confirming the third circuit that will host the final SQ trial.
Last weekend's 17-lap mad dash at Silverstone was a lively race, at least in the opening stages, in which Red Bull's Max Verstappen prevailed.
The main criticism regarding last weekend's format was F1's decision to officially award pole position to the winner of Sprint Qualifying, a choice that many believed was fundamentally wrong.
"I think that's wrong," said Aston Martin's Sebastian Vettel. "Pole is the fastest lap time achieved in qualifying, so it gets all a bit confusing.
"Pole position should go to the guy who is fastest on one lap. It's a new discipline. They didn't have it 50 years ago and now they have it. So you add a new column to the statistics."
Ross Brawn, Formula 1's managing director of motorsport, hailed the weekend as a great success, and admitted to being open to – among other things - rethinking the pole position conundrum.
"It's maybe something we need to think about if there's some change in the nomenclature of what we're doing, and should Friday be the pole position?," he said.
"It's things like that we'll talk about and discuss with the FIA and teams. But we can't be held back by history, we need to respect history but we must never be held back by history.
"I don't want to go into detail but we have a job list, things we want to enhance. We will start to work through, we need to engage all the other partners."
Gallery: The beautiful wives and girlfriends of F1 drivers
Keep up to date with all the F1 news via Facebook and Twitter