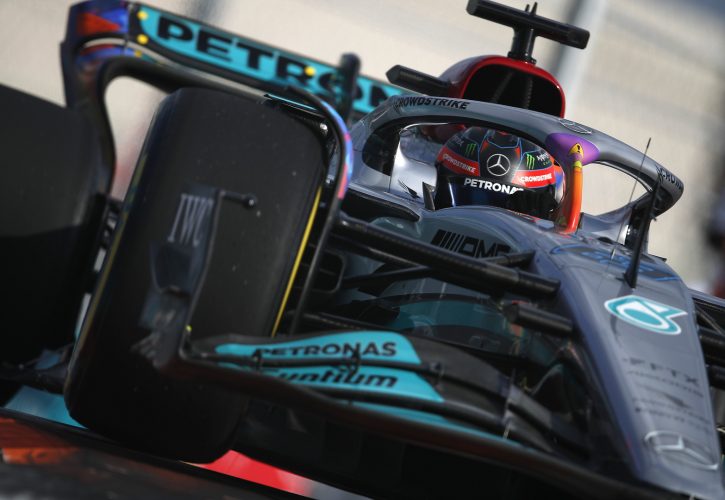 Mercedes drivers George Russell and Lewis Hamilton were both delighted and relieved to see the W13 looking much more on the pace in Friday's practice sessions for the Miami Grand Prix.
After struggling in the opening rounds of the season, Mercedes were right at the front this week with Russell second quickest in FP1 and then pipping Ferrari's Charles Leclerc to the top spot in FP2.
Hamilton was also benefitting, and finished the afternoon in fourth place which confirmed a definite step forward for the team as a whole. But despite that, both drivers were advising caution about what to expect this weekend.
"We always knew that the warm conditions here in Miami would suit our car better," Russell said. "We've suffered with getting temperature in the tyres at previous races so that's a big factor here.
"The car is running well but it's only Friday - we're not getting carried away," he said. "It's probably been the most productive Friday we've had this season in terms of learning."
The team has brought its first significant upgrades of the season to Miami in a bid to overcome the prominent 'porpoising' that had blighted its first races where the car bounces on long straights due to the aerodynamic ground effect.
"We know that the porpoising will always be there but maybe it's working at a lower range compared to where we were previously," Russell suggested. "From what we've seen so far, the car seems to work well around Miami."
Hamilton admitted that he wasn't sure exactly how the team had made such significant progress on Friday.
"They were explaining to us we definitely have improved in some way," Hamilton said of the feedback from the Mercedes engineering chiefs. "I'm not sure where that is - we still have the bouncing, we haven't cured it, but bit by bit we're improving.
"But today is just practice and everyone is doing something different, not showing their true pace, so we won't get carried away," he said, echoing his team mate's wariness.
"There are positive elements to take from today, George looked great out there and the team are trying a lot of different things with our cars, so we'll converge and hopefully take another step forward tomorrow.
However Hamilton admitted he was worried by the physical challenge of hot and humid conditions in Florida this weekend.
"The race is going to be tough," he said. "It's very hot for the drivers. I've already lost a couple of kilos today.
"The heat reminds me a little bit of driving in Malaysia," he added. "Kuala Lumpar is still number one in terms of the heat, then Singapore, and now here in Miami."
Keep up to date with all the F1 news via Facebook and Twitter