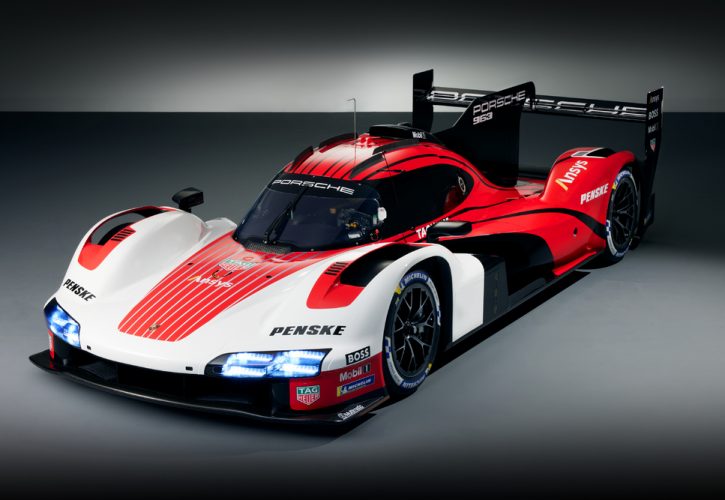 Porsche has taken the covers off its new WEC LMDh and IMSA contender, in a special event at the Goodwood Festival Speed on Friday.
The new 963 was decked out in a traditional red, white and black livery for a run up the venue's famous hill climb, ahead of its official track debut in the 8 Hours of Bahrain in November.
That will be a non-competitive entry not eligible for points, effectively a shakedown for the new car ahead of the 2023 FIA World Enduracen Championship season.
Porsche is planning to run two cars in the Hyperclass category, while also competing full time in the the IMSA WeatherTech SportsCar Championship's GTP class.
The 963 chassis is being supplied by Canadian high-tech company Multimatic and the 4.6-litre V8 bi-turbo engine is based on Porsche's high-performance 918 Spyder hybrid road car.
It's based on the 4.6-litre unit that powered the 918 plug-in hybrid road car in normally-aspirated form. Other shared hybrid components will be provided by Bosch, Williams Advanced Engineering and Xtrac.
Among the drivers signed to share the four 963s across the two championships are Kévin Estre, Michael Christensen, Laurens Vanthoor, Matt Campbell and Mathieu Jaminet, Dane Cameron and former F1 driver Felipe Nasr.
Also in the line-up will be three-time Le Mans 24 Hours winner and former Porsche LMP1 driver André Lotterer, who has spent the last few years competing for Porsche in the Formula E world championship.
The German manufacturer has said that a decision has yet to be made about whether Lotterer would continue to race in the all-electric series in 2023.
The team will operate out of a facility in Mannheim, Germany. The general manager will be Bernhard Demmer, while Francis Schammo will serve as team manager.
The team had previously indicated it would have a core of 10 drivers across the two series, with six in WEC and four full-time drivers in IMSA, suggesting that two more names will be added in due course.
"Other experienced drivers from the Porsche squad will be added to the cockpit crews at the endurance races at Le Mans, Sebring, Daytona and Road Atlanta," the team's statement on Friday noted.
"After 4,900 miles during the first half of 2022, we're on a very good path but there is still work to be done before the start of next season," Porsche Motorsport vice president Thomas Laudenbach said.
"Our new Porsche 963 should continue the legacy of legendary models such as the 917, 935, 956, 962 and the 919," he added. "I'm positive that we'll be well-positioned when it comes to technology.
"We've also created the relevant team structures to set us up for wins in the thrilling competition between many manufacturers and different concepts."
As well as its sportscar and Formula E programmes, Porsche continues to be linked to an all-but certain 2026 entry in Formula 1 alongside sister marque Audi as part of plans by parent company Volkswagen.
Gallery: The beautiful wives and girlfriends of F1 drivers
Keep up to date with all the F1 news via Facebook and Twitter