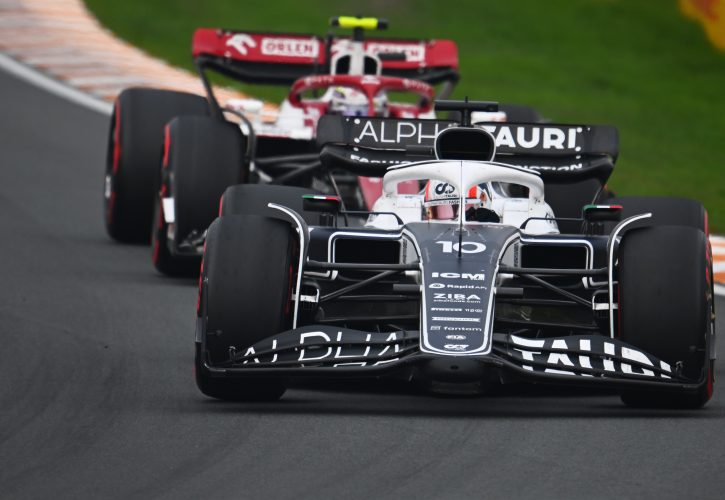 Pierre Gasly reckons AlphaTauri can catch and overhaul for sixth place in F1's Constructors' standings midfield rival Alfa Romeo, but the Faenza-based outfit will need a great end to its 2022 campaign.
While AlphaTauri was a consistent top ten contender in the first part of the season, good results were hard to come by over the summer for Gasly and teammate Yuki Tsunoda.
Indeed, the Frenchman has only scored points in two of the last eight races – at Spa and in Monza, which, coupled with Tsunoda's own poor track record has left their team P8 in the championship, one point behind Haas but 19 points adrift from Alfa Romeo.
Yet Gasly says a strong final stretch could enable AlphaTauri to prevail over both its midfield rivals.
"We are one point behind seventh place in the Constructors' so our goal over the last six races this year has to be to at least move up as much as possible, and it's looking very tight," he said ahead of this weekend's Singapore grand Prix.
"It's not impossible for us to catch Alfa Romeo for sixth, but it might be complicated and depend on us having a really great end to the season. We have to aim to score points with both cars as often as possible, even if it's not easy.
"That does not change our approach to each race weekend, which is to try and get the most out of the car and to do everything as well as possible as a team."
Gasly believes there's an element of unpredictability associated with F1's upcoming races that will take place at two tracks – Marina Bay and Suzuka – where teams haven't races in three years.
"We come to a part of the season, the last part, all outside Europe, with very different types of circuits that we do not know as well as those nearer to home, starting with Singapore and Japan where we have not raced for a couple of years.
"Therefore, anything could happen. In the last triple header, we scored points in two of the three races, and we must continue with this more positive trend that began back in Spa."
While Tsunoda will race for the very first time in Singapore, Gasly is well acquainted with the popular night event.
"We start this final part of the year in Singapore, which is one of my favourite tracks," he said. "I finished in the points the last time we raced there in 2019.
"It's a very technical track, with a lot of corners, a lot of rhythm to it and very twisty. It's a complicated street circuit which means you cannot make any mistakes at all, so it's challenging in terms of the level of concentration required.
"We should also have an aero update for this race, so we will see what it brings in terms of performance."
Keep up to date with all the F1 news via Facebook and Twitter