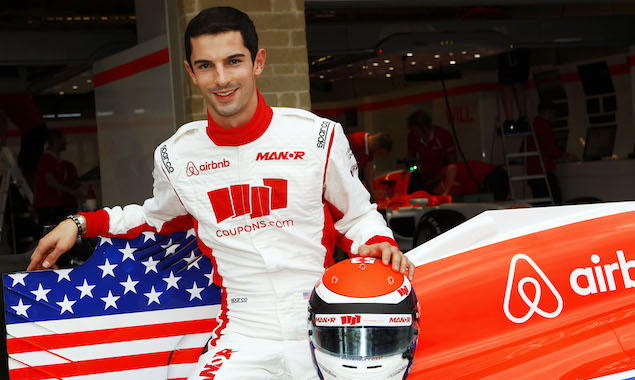 Alexander Rossi has rejoined Manor as a reserve driver for the 2016 F1 season having missed out on a race seat with the team.
The American raced in five of the final seven rounds for Manor last season before working on a package to secure a full-time race seat this year. However, with Manor having already signed Mercedes youngster Pascal Wehrlein, Rio Haryanto was handed the vacant race seat ahead of the start of pre-season testing.
Rossi has since signed to race in IndyCar this year, but Manor wanted an experienced reserve driver on its books and have re-signed Rossi, who will attend 11 races this year starting with the Russian Grand Prix in May.
Racing director Dave Ryan says Rossi's experience with the team will allow him to make a major contribution to the new car's development.
"We're very fortunate to have someone of Alex's calibre in the role of Official Reserve Driver," Ryan said. "The fact that he's racing full time in the IndyCar Series this year was simply a challenge to be overcome; something we're pretty good at.
"We need a safe pair of hands for the role, which always carries the potential to have to step up to race, but also someone who can really contribute to the development of the car.
"For Alex, F1 is still unfinished business. He did a great job when he drove for us in five of last season's races and he's a highly rated and valuable part of our line-up. He does have one heck of a schedule ahead of him and it's a commitment that only the most disciplined of drivers would be able to manage. We're confident he's the man for the job."
FEATURE: Race Zero - Barcelona to Melbourne via Milton Keynes
INTERVIEW: Max Verstappen: The man in demand
ANALYSIS: The two F1 pre-season tests in numbers
Keep up to date with all the F1 news via Facebook and Twitter