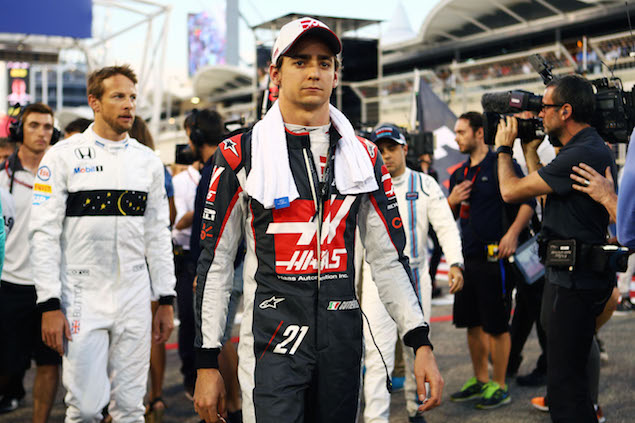 Esteban Gutierrez insists Haas F1 Team team-mate Romain Grosjean's storming start to the 2016 season does not have a bittersweet taste in the wake of his two retirements.
The Frenchman delivered another great performance at last weekend's Bahrain Grand Prix, earning a second Driver of the Day award for his fifth-place finish in Sakhir.
After being involved in a spectacular crash with Fernando Alonso in Australia, Gutierrez was also on course for a strong result under the floodlights until one of the brake discs broke on his VF-16.
Asked whether he was more encouraged by Haas' dream debut or frustrated by his own situation, the Mexican replied: "I don't see it that way. I see it more in terms of what I have done and the circumstances that happened to me. It's obviously very good to know that the team is doing very well, that my team-mate is able to finish in front. I was right behind him [in Bahrain]. It was a good position to be in.
"We've been fighting very well, through practice sessions with both cars pretty close. It's a good fight. It's good to have both drivers pushing. It's important to give consistent feed back to the team because that's how we have developed the car."
Gutierrez accepts that reliability issues are part of any nascent motor racing venture and is confident his fortune will eventually turn around and allow him to deliver points-scoring finishes as well.
"I will keep fighting, nothing will stop me. Nothing will change the way I work, nor the way I approach things. I have proved that the pace is there and that I can achieve as well. It will come sooner or later."
Grosjean currently occupies fifth place in the Drivers' standings, tied on 18 points with Ferrari's Kimi Raikkonen, while Haas is fifth in the Constructors' championship.
Bahrain Grand Prix - Quotes of the weekend
DRIVER RATINGS: Bahrain Grand Prix
Keep up to date with all the F1 news via Facebook and Twitter