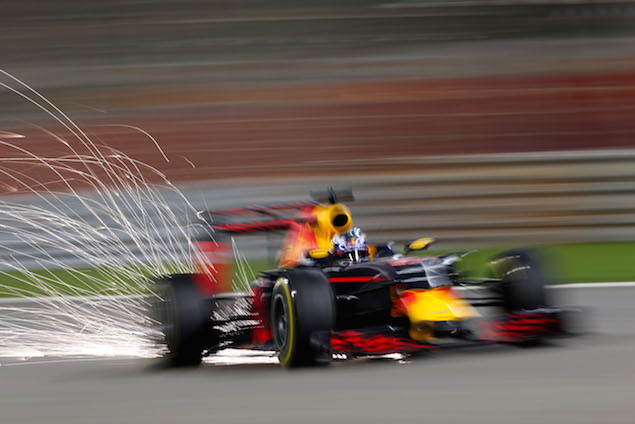 Daniel Ricciardo predicts that 2017's planned rule changes will result in "very dull" races, with increased levels of downforce making it harder for drivers to follow and overtake other cars.
While F1 bosses are still working on next year's technical and sporting regulations, the FIA has already released a set of radical bodywork changes. These will see the introduction of wider cars and tyres, and result in lap times that could be up to five seconds per lap faster than at present.
However, a number of drivers – including reigning world champion Lewis Hamilton – have already expressed their concerns that adding around 30% more downforce will end up being detrimental to the racing. Ricciardo joins the chorus of voices questioning the proposed tweaks
"The tempo, for the whole pace of the race needs to be quicker, a bit more intense," the Australian is quoted saying by ESPN F1. "And to have high speed corners, to be able to push the cars through the high speed more. [But] I don't want to bolt on a whole lot of downforce and then be unable to follow another car. Qualifying would be fun but it would make the Sundays very dull.
"In an ideal world, whether it is through the tyres, having more grip from the tyre itself, to be able to go through the high speed and be more on to the driver. When I tested in Jerez the first time in 2009, all the high-speed corners were up to me. The car was going to stick; it was how much I was willing to push it. Now I feel that there are a lot of corners on the calendar where you get to your limit."
Since joining Red Bull at the start of the current 1.6-litre V6 turbocharged era, Ricciardo has had to take on the fight to the likes of Mercedes and Ferrari with an underpowered Renault engine. Although this did not prevent him from winning three races in 2014, the 26-year-old admits that he would like new regulations to level that playing field.
"The power units are quite complicated. It is easy for me to say because we have been on the shorter end of that straw the last few years. Just generally though, to have a bit more equality through horsepower, just to get the teams to design a better car. If we could all have a similar straight line speed it would bring it all a bit closer."
PROFILE: Paddy Lowe, the pioneer