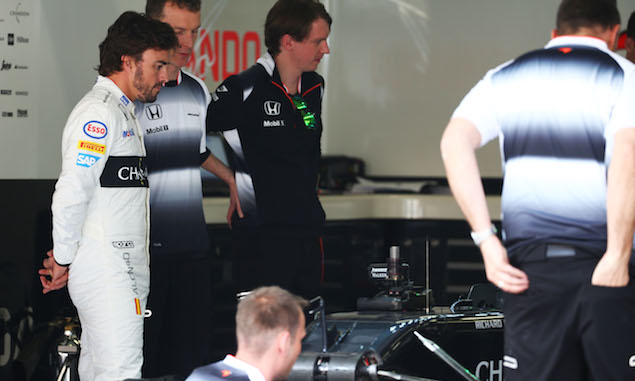 Fernando Alonso says he is "100% with no pain" as he awaits the FIA's decision over whether he can race in the Chinese Grand Prix.
The Spaniard was ruled out of the Bahrain Grand Prix on fitness grounds having sustained a collapsed lung and fractured ribs during a heavy crash at the first race in Australia. The FIA carried out another set of tests on Alonso in Shanghai on Thursday morning, but with a decision still to be given he says he is in improved condition.
"I feel good," Alonso said. "I feel OK. In Bahrain I was mentally 100% ready to race physically I had a lot of pain in Bahrain. I was ready to try at least to see if the pain was manageable with the broken rib.
"The situation has improved a lot and mentally I am 120% now but physically I am 100% with no pain in the last couple of days. I have been training with the normal routine for the past two weeks, running, bicycle, golf, tennis, many a sport that was a big change in terms of this race a little more ready and fit.
"I did sleep for the last two weeks' as well because for the first 10 days after Australia I could only sleep on one side so that was not really comfortable. From Bahrain to here, a big improvement. I feel good."
With the FIA swiftly ruling him out of the race in Bahrain following the checks, when asked why there is a delay on Thursday in China, Alonso replied: "That is a question for them probably.
"Sometimes a longer process that we like or we think from the outside because there are some things behind and some procedures and some paperwork or whatever that is not that you arrive there and you feel OK but before it is written it takes time and that is what is happening."
Romain Grosjean column: A start beyond my craziest dream