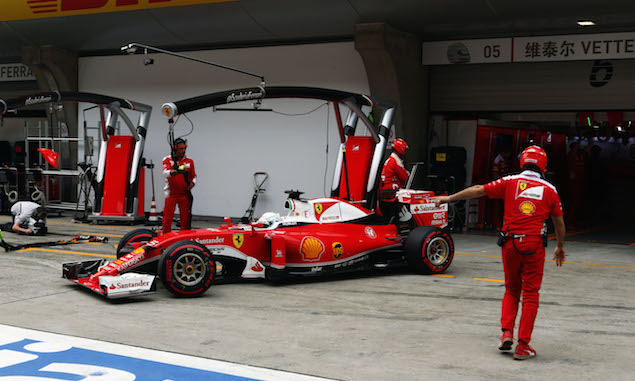 Like Ferrari as a whole since the beginning of the weekend, Sebastian Vettel was hopeful of taking the challenge to Mercedes during qualifying.
The German appeared to be biding his time - and saving tyres - in the latter stages of the session, emerging late in Q3 for a single lap run, but it proved good only for a fourth place spot on tomorrow's grid.
"We did only one run in order to save a set of tyres," Vettel said.
"I was confident I could make it on the last lap, but I didn't. I wasn't happy with the run, I did a couple of mistakes here and there which cost quite a lot of time. So in all honesty I don't deserve to be in the top three."
Although the German was disappointed, the prospect of starting on the SuperSpoft compound with an extra set in hand provides Vettel with a fairly positive outlook.
"It should be interesting. Nico is obviously starting on a different compound, and there are a different amount of tyres left for us behind him, it will be interesting to see how the race unfolds.
"We'll first focus on the start, and the last one I had was very good, so I'm confident that I can have another good one and we'll go from there. We have strong car, the balance was better today than it was yesterday.
"Obviously there's the Red Bull that has squeezed past, but I think we can be quicker tomorrow so our target is to go forward from where we are now, and I think we have good chance of finishing higher than fourth."
Rosberg beats Ricciardo to pole as Hamilton falls in Q1
AS IT HAPPENED: Chinese Grand Prix - Qualifying
Romain Grosjean column: A start beyond my craziest dream