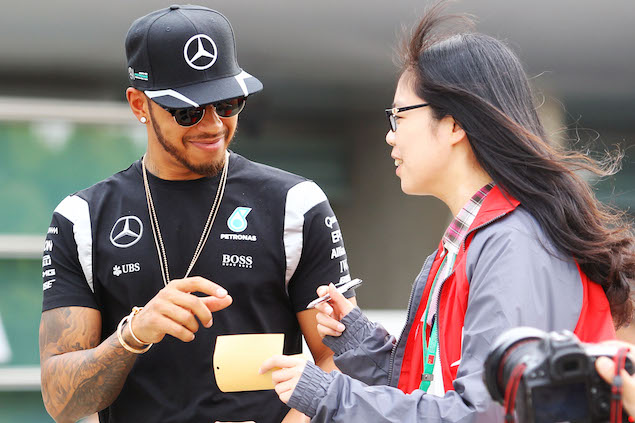 Triple world champion Lewis Hamilton claims no other driver has ever promoted Formula One as much as him, and says he does not feel accountable towards the sport due to the amount of effort he has put in his career.
The Briton took the series by storm in 2007 with McLaren as he fell only one point shy of winning the title after a sensational rookie campaign.
Earning his first laurels the following season only heightened Hamilton's media exposure on and off track, though he waited until his switch to Mercedes in 2013 to let his personality shine through.
The 31-year-old's celebrity lifestyle has been a much-documented and debated topic, with Hamilton very active on social media to keep his fans up to date on his latest whereabouts and activities as he jets around the globe.
"I've been [in F1] for 10 years, given my blood, sweat and tears for the sport," Hamilton told CNN in a wide-ranging interview. "So, I don't feel like I owe it anything. I actually probably promote the sport more than any other driver ever has. I'm at more events talking about Formula One more than any driver ever has, probably all the other drivers put together and more.
"I don't feel like I have any more of a responsibility. I've got some incredible fans and I give as much time as I can to motivate them and energize those who do follow me. So I don't know what else I have to give."
Hamilton has lately become quite vocal about the state of F1, lambasting the proposed regulation changes for 2017 and lamenting the lack of driver input in rule-making process.
Despite F1 racers showing a united front in recent weeks as part of the Grand Prix Drivers' Association (GPDA), the Mercedes star is aware that their scope of action remains restricted.
"Ultimately sport, business... it's money and power. We [the drivers] will say stuff but ultimately it's those people who are sitting in their chair, striking a pen, paying checks, making money, that will be the ones that [have the final say]."
"I'm not saying it's wrong. It's just like a corporate business – money is the power, money is the ruler. The people who own the sport make the decisions."
Chinese Grand Prix - Quotes of the week
F1i's Driver rating - Shanghai
Eric Silbermann has breakfast with photographer Crispin Thruston
Keep up to date with all the F1 news via Facebook and Twitter