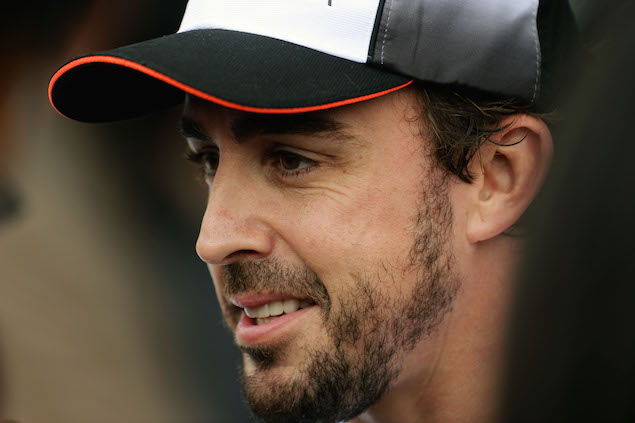 Fernando Alonso says he is raring to race in this weekend's Russian Grand Prix, as the McLaren-Honda star has been "feeling stronger" with each day since he had a huge crash in Australia.
Having clipped the rear of Esteban Gutierrez' Haas VF-16, Alonso was sent into a series of scary rolls in Melbourne, suffering broken ribs as well as a collapsed lung, which kept him out of the following Bahrain Grand Prix.
The Spaniard made his competitive return in China, though he had only been granted provisional clearance by the FIA at first.
"With each day I feel stronger since my accident, and I can't wait to get back in the cockpit again on Friday and see what we can do," Alonso said.
Despite noticeable progress over the winter, McLaren-Honda remains quite off the front-running pace, as highlighted by both MP4-31s finishing outside the points paying positions in Shanghai, a race that did not feature any retirement.
Having already called for improvements "in all areas", the 2005 and '06 champion therefore gears up for another closely-fought contest in the pack in Russia.
"It doesn't feel like it's been too long since we last came to Sochi, but I'm looking forward to comparing last year's car performance with the MP4-31's. Our car feels very positive, and our progress is encouraging, but I hope we can achieve the potential we can see in our package and put in a promising performance on Sunday, which is when it all counts.
"The track lends itself to close battles and I hope we'll be able to mix ourselves in with the pack again there this year. The long, fast straights are generally where our car is weaker, but it's very well balanced, so I'm looking forward to seeing if we can maximise the strengths of our package at this track.
"It'll definitely be a tricky race – competition in the midfield is very tough, and a lot of the teams are looking pretty strong, with solid reliability. We had a smooth weekend reliability-wise in China and we're definitely learning a lot race-by-race, so I'm hopeful we can have a stronger result in Sochi. This race is particularly hard on fuel, so along with the tyre strategy there'll be a lot of elements to manage."
FEATURE: Silbermann says... One 'Flu and he's cuckoo at best
F1 technical - How does ERS deployment work?
Derek Warwick - Race of my life
Keep up to date with all the F1 news via Facebook and Twitter