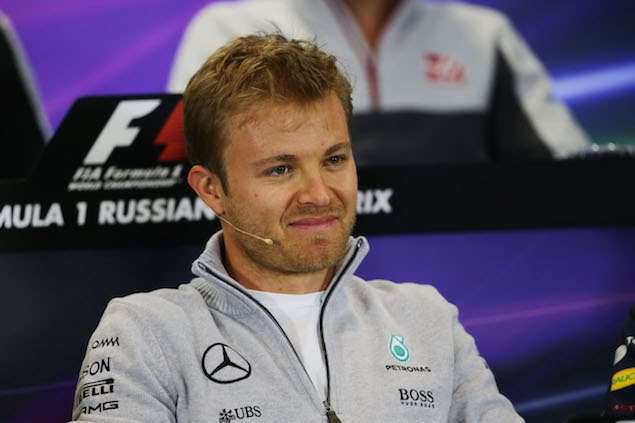 Championship leader Nico Rosberg does not get carried away by his perfect score ahead of this weekend's Russian Grand Prix because he says his rivals have had a "messy start".
The Mercedes driver has won the opening three events and enjoys a 36-point edge over team-mate Lewis Hamilton, who has endured his fair share of mishaps amidst reliability issues and troublesome race starts.
Asked in Thursday's FIA press conference whether F1 was currently witnessing "the best-ever Nico", Rosberg replied: "The most-experienced Nico"
"I've been driving really well but my opposition had a really messy start, that's the reality of it. I expect my competition to bounce back, especially Lewis. There's still a massively long way to go.
"I'm not sounding any notes of caution - I'm just realistic."
Besides Hamilton, Ferrari's progress has also been hampered with Sebastian Vettel and Kimi Raikkonen already suffering one race-ending engine-related failure each, while the pair also infamously collided at the start of the Chinese Grand Prix last time out.
"Ferrari, among others, haven't really shown what they can do yet," Rosberg added. "They've taken each other in the last race at the first corner, for example. From then it was very messy.
"A lot of things are going wrong and we think they're a lot quicker than they've shown. We think they are very very close to us."
Rosberg was on pole position in Sochi last October. The German led in the early stages until his throttle got stuck and he was forced into retirement.
Romain Grosjean column: Haas brought back down to earth
Chris Medland's 2016 Russian Grand Prix preview
F1 technical - How does ERS deployment work?
Keep up to date with all the F1 news via Facebook and Twitter