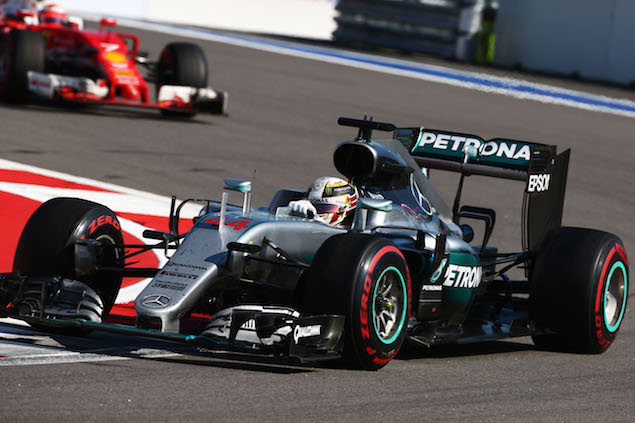 Lewis Hamilton has taken to his Facebook page to send out a message to his fans asking them to trust his Mercedes F1 team in the wake of recent sabotage claims.
The reigning world champion has not had the smoothest title defence so far amid sluggish getaways and reliability issues on his W07. Meanwhile, team-mate Nico Rosberg has won the opening four races to open a 43-point gap over Hamilton in the standings.
Last weekend's Russian Grand Prix saw the Briton's supporters air their growing frustration online and accusing Mercedes of favouritism towards the championship leader.
Although motorsport boss Toto Wolff branded conspiracy theorists "lunatics" right after the race, the team has since then been trying to calm the situation by penning an open letter addressed to its "real fans".
After defending his crew from the criticisms at Sochi, Hamilton does it again on his social media channels. Here is the 31-year-old's message in full:
Dear All,
I want you to know how grateful I am for all of your support. I'd like to ask that you please trust in my team, as I do. This is my family. These guys have been the greatest, hardest working people for me, and that is why I am now a three-time World Champion. Please don't put any more thought into my team doing anything unjust towards me, and understand that it would be in no ones best interest for that to be the case.
We've had the best three years together, and whilst it's not going to plan right now, all will unfold in its own time. I trust these guys 1000% and my mechanics are incredible, the best in the business. I respect them so please do the same. They are the guys that are going to make winning this championship possible.
Thank you once again
OPINION: Why Red Bull is right to promote Max Verstappen
Silbermann says ... Red Bull Clips Your Wings
Scene at the Russian Grand Prix
Breakfast with... Martin Brundle