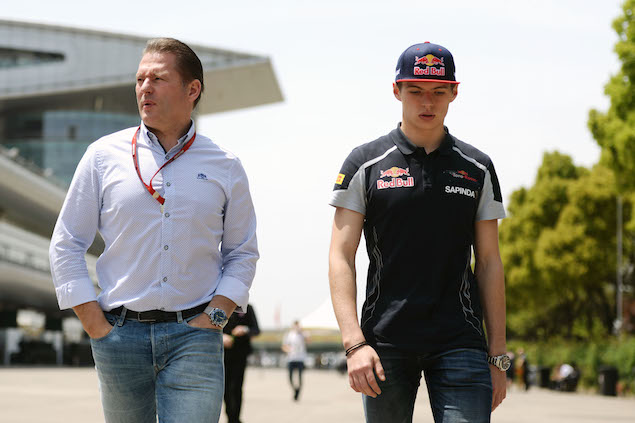 Following his fast-track promotion to Red Bull, Max Verstappen says his plan was always to stay with the energy drinks giant, despite rival teams trying to secure the services of the Dutch phenom for the 2017 F1 season.
Verstappen was confirmed as Daniil Kvyat's replacement at Milton Keynes on Thursday in a shock swap that sent the Russian back to Toro Rosso.
According to several reports, Mercedes and Ferrari had approached Red Bull to enquire about the 18-year-old potentially becoming a free agent next year. But Verstappen reveals he did not have any intention to leave the company that made him the youngest F1 driver in history.
"To be honest, I was always very happy at Red Bull," Verstappen said during a factory visit to have his RB12 seat fitted ahead of next weekend's Spanish Grand Prix. "I never saw reason to change and of course with this opportunity there is no reason to change so I'm happy to be here."
The teenager also took the opportunity to thank his father Jos Verstappen, who drove in F1 from 1994 to 2003, for supporting him ever since he began his racing career. Asked how he reacted to his Red Bull graduation, Verstappen Jnr replied:
"He was very proud to be honest. He was very happy because he invested a lot of time also in me when I was younger.
"We started together in go-karting. He was helping me out a lot and I learnt a lot from him. For sure, if he had not helped me, I will not be standing there today."
OPINION: Why Red Bull is right to promote Max Verstappen
Silbermann says ... Red Bull Clips Your Wings
Scene at the Russian Grand Prix
Breakfast with... Martin Brundle