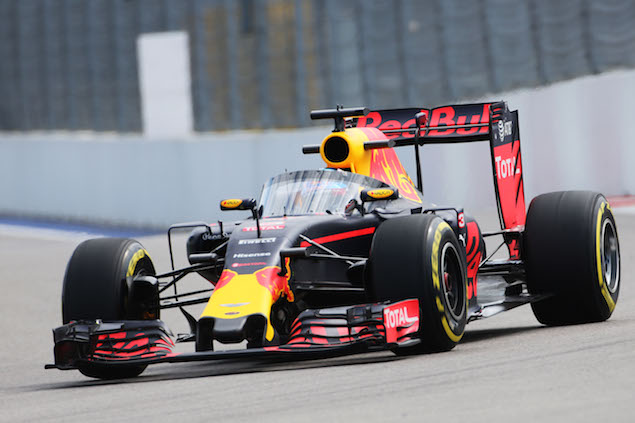 Formula One race director Charlie Whiting says the FIA is not worried about a crash test of Red Bull's Aeroscreen that shows a tyre graze a driver's helmet.
In a bid to further improve safety standards in F1, the sport's governing body is pushing on with plans to introduce a cockpit protection system on 2017 cars.
So far, two concepts have been tested on track, with Ferrari debuting the Halo design in pre-season testing and Red Bull sampling its own solution in free practice for the Russian Grand Prix.
In one of the videos released by the energy drinks company after running the Aeroscreen in Sochi, one can see a wheel actually brushing the helmet after it was fired at the windscreen at high speed, thus raising questions about the effectiveness of the system.
"The helmet is not fixed in those tests - it's basically sat on a couple of pegs which locate it," Whiting is quoted as saying by Motorsport.com. "The contact with the driver's head in that particular incident was absolutely minimal.
"But no safety device is going to cover every accident. We know that. That's a fact of life.
"You keep on adding things to try and make it safer and safer and safer. The wheel tethers have gone up in their strength over the years, yet wheels still come off under extreme circumstances.
"It's just you're minimising the chances of it happening and that is what every safety device does."
Another concern about the Halo and Aeroscreen is the hinderance they can present to drivers when they have to exit the car or be extracted from it quickly. Whiting adds that the FIA is ready to extend the minimum time required to leave the cockpit as a compromise for better head protection.
"Looking at the actual opening, I can't see any difference between the two.
"They are both mounted at more or less the same height. The top rim, the actual opening, is extremely similar and the height of the top of the Aeroscreen and the Halo looks similar."
"Teams will develop systems to make it easier for drivers to get out. But if we eventually needed to add a couple of seconds to the time required to get out, I think that would be a small price to pay for the added protection for the driver's head."
Under current regulations, F1 drivers must be able to leave their vehicle in five seconds. The video of the Aeroscreen test can be seen below.
OPINION: Why Red Bull is right to promote Max Verstappen