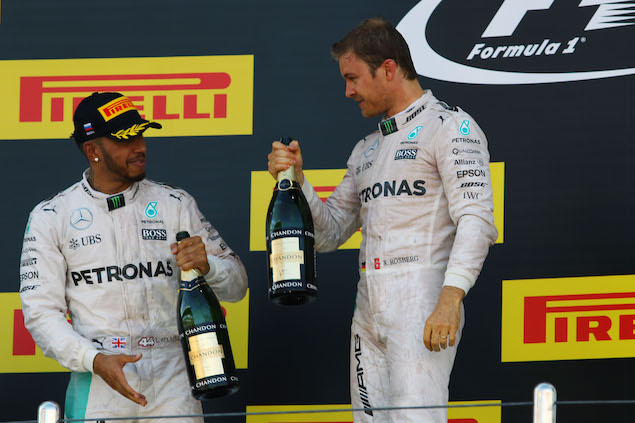 Championship leader Nico Rosberg is adamant Mercedes team-mate Lewis Hamilton will come back in the title fight, saying the Briton "is driving as strong as ever".
The German has enjoyed a perfect start to his 2016 campaign, winning all four flyaway races when Hamilton had to cope with reliability issues and poor getaways.
In doing so, Rosberg has become only the fourth driver to begin a season with four consecutive victories after Ayrton Senna (1991), Nigel Mansell (1992), and Michael Schumacher (1994 and 2004) .
When it was pointed out to him that all three aforementioned drivers went on to become world champion the year of their achievements, Rosberg had this to reply: "As I've always said, they didn't have Lewis Hamilton as a team-mate.
"Yes, I have a good points lead, but there are still 425 points up for grabs and I am only 40-something [43] points ahead now. With 425 points left to go it is not even worth talking about [the title] yet at this point in time.
"Lewis is driving as strong as ever as we have seen in the last couple of weeks, so for so sure he will bounce back and he doesn't have an issue with fighting back in his head. I'm sure we will see a lot more of the battle between us and it will always be a tough battle.
"I'm taking it race by race and Barcelona is next. I'm well aware that Lewis is going to come back when he has a clean weekend and that's the usual and he's as motivated as ever. It will be a great battle in Barcelona and I look forward to that."
With the Spanish Grand Prix marking the start of the European leg in the F1 season, Rosberg will probably remember that he had one of his better race weekends of 2015 at Circuit de Barcelona-Catalunya.
While Hamilton had dominated the opening segment of the season, the German comfortably secured pole position before cruising to victory ahead of his team-mate in Spain.
F1i Classic: Schumacher's "5th gear only" signature drive at the 1994 Spanish GP