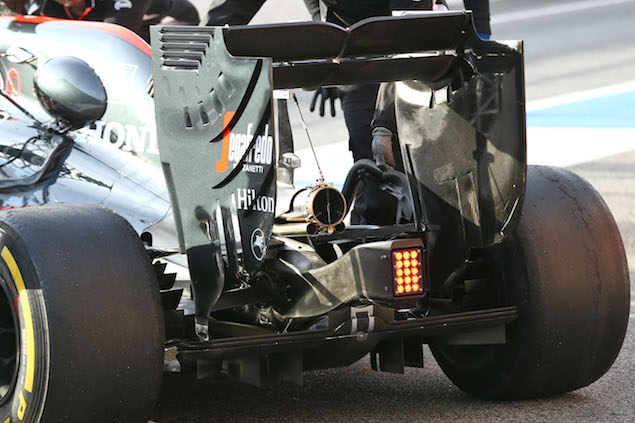 McLaren-Honda racing director Eric Boullier thinks Formula One is right to investigate ways of increasing the sound of current power units, as it does not take anything away from the technological achievement.
Since their introduction in 2014, the 1.6-litre V6 turbocharged engines have been much criticised, with fans bemoaning the lower and muffled sound they make compared to the high-pitched scream of their normally aspirated V8 predecessors.
New exhaust rules were drafted ahead of this season, which state that teams must use at least one extra pipe for the wastegate in a bid to deliver an increase in engine noise.
In the light of the recent vote on the 2017 engine regulations, it was announced that "the manufacturers are currently conducting a promising research programme into further improving the sound of the current power units".
"I think we can't mix technology with the story," Boullier said at a McLaren-Honda media day. "The technology is there and we are running these hybrid engines, which are very high-level technology.
"One of the consequences of running this technology and these lean-combustion engines is that it alters the noise. One of the issues is the noise let's say.
"This is something out of the technology category, which is the show. The fans want a different noise. We're not talking about technology, we're talking about the show.
"We have some sporting road cars that have that kind of [sound] device, so why not investigating it to make the show better for the fans? But this has nothing to do with the technology."
Speaking at the same event, Honda's head of F1 project Yusuke Hasegawa said he was personally against trying to improve engine noise artificially.
F1i Classic: Schumacher's "5th gear only" signature drive at the 1994 Spanish GP