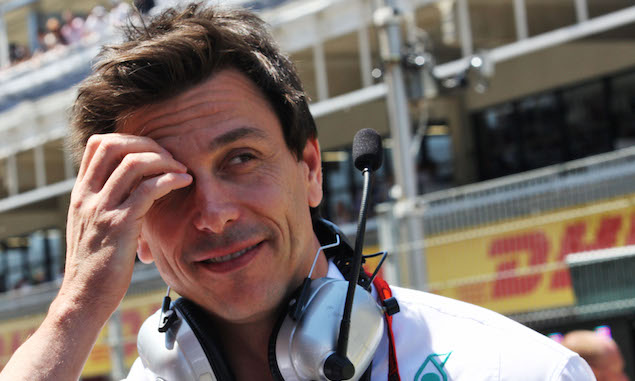 Mercedes boss Toto Wolff says Lewis Hamilton and Nico Rosberg will still be allowed to race each other despite their clash at the start of the Spanish Grand Prix.
The two drivers collided at Turn 4 when Hamilton lost control of his car on the grass having tried to pass Rosberg on the inside as the race leader moved across to defend. The crash resulted in Mercedes' first double-DNF since the start of 2011, but with it being dismissed as a racing incident by the stewards Wolff insists he will not lay down new rules as he did after that pair collided in the 2014 Belgian Grand Prix.
"We have moved on from Spa in 2014 and it was a completely different situation in the team back then," Wolff said. "By continuing the approach of letting them race it was clear that eventually this could happen and we will continue to let them race.
"[Sunday] was just a couple of unfortunate coincidences that ended up in us losing as a team for me it was different than Spa."
And Wolff is confident the collision will not impact on the way the two drivers race each other in future.
"I think both of them have settled into the team well and know what is important for us. We saw that in the discussions afterwards. It is clear that we can't expect them to be easy about it, each of them will have a different opinion.
"We can't expect them to react differently. I am 100 per cent sure that it will not influence in a negative way their relationship going forward."
While Hamilton apologised to the team for the incident, Wolff hinted Rosberg felt the majority of the blame should have been apportioned to his team-mate.
"It was a different situation when [Rosberg] came into the room. Lewis said sorry for having let you down and I don't remember the words with Nico but it is not that each feels he is entirely faultless in that situation."
REPORT: Verstappen takes stunning first win as Mercedes collide
Breakfast with ... Claire Williams
Romain Grosjean column: Spain will show the real Haas
Keep up to date with all the F1 news via Facebook and Twitter