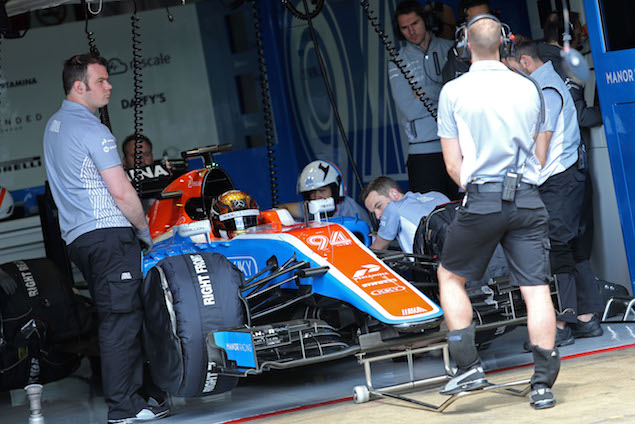 Manor racing director Dave Ryan admits the British outfit has perhaps been slightly too conservative in its Pirelli tyre choices so far this season.
New regulations have been introduced this year, which sees F1 teams pick from three nominated compounds. What's more, they have to make their selection known 14 weeks prior to flyaway races and eight for the European events.
While teams have so far tended to load up on the softest rubber available, Manor drivers Pascal Wehrlein and Rio Haryanto have often had quite different tyre allocations to their rivals.
For instance, both rookies will only get six sets of ultrasofts for next weekend's Monaco Grand Prix - the lowest amount in the field - when the Mercedes and Red Bull duos, as well as Renault's Kevin Magnussen will receive 10.
When it was suggested to him that Manor has been "quite bizarre" with its tyre choices so far, Ryan replied: "Yes, we have been.
"We made the choices based on what we though was right at that time. There is no disputing, if you look at tyre choices other teams have made, that they have been a bit more aggressive than we have been. Maybe we need to go in the same direction.
"But we're comfortable with what we have. We feel we had the right tyres available at the last race [in Spain]. And you've got to remember as well that at the end of 40 minutes in FP1 you've got to throw one set of tyres away [give it back to Pirelli for analysis].
"At the end of that session you have to give out two sets. Another two sets you have to give away at the end of each other session so you go through them pretty quick."
Ryan concedes Manor could have made better tyre calls, but the ex-McLaren man is confident the minnows will adjust their strategy as the season unfolds.
"If you look at anything in hindsight, you say we could have done that differently. And if you ask me 'will the team make the same tyre choices again for those first few races?', obviously not, based on what everyone else did. But we are allowed to make our own minds up and that's what we've done and we believed we were right at the time.
"Going forward we've got the same opportunities as everyone else to pick tyres. What dictates getting it right is what the winning team selects, isn't? It kind of flavours it to a certain extent. But we're kind of comfortable where we are, so we'll see."
Jacques Villeneuve - Race of my life
Exclusive Stoffel Vandoorne Q&A
Keep up to date with all the F1 news via Facebook and Twitter