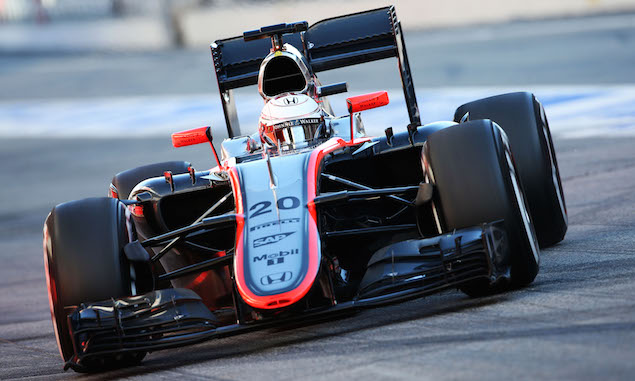 Kevin Magnussen admits it would be very tough for him to have to race in Australia if Fernando Alonso was not fit to take part.
Alonso was hospitalised for three days following a crash on the final day of the second test at the Circuit de Catalunya, with the incident enough to rule him out of the final test. While McLaren says Alonso is uninjured, Ron Dennis has already confirmed he will need to pass an FIA test to race, with Magnussen due to fill in if Alonso misses Australia.
After his only day driving the MP4-30 before the first race resulted in just 39 laps, Magnussen concedes it would be tough for him to jump in the car in Melbourne.
"I think it would be difficult because I've not really had my own team of engineers and mechanics to talk to all winter," Magnussen said. "So I've kind of been on the sidelines a little bit. I've followed what was going on and kept up to date with it but it's different when you have your own team and you can go there every day and work with them and prepare like that.
"So it would be difficult, but if I have to then I would be very happy to do it."
Racing director Eric Boullier says McLaren should know who is driving in Australia in the coming days.
"As soon as the green light is given by the doctors which should be next week," Boullier said. "Sorry, it's not in my hands. There is nothing wrong but I just think there is a final check to be done and the green light should be given."
Click here for live coverage of day four of the final test