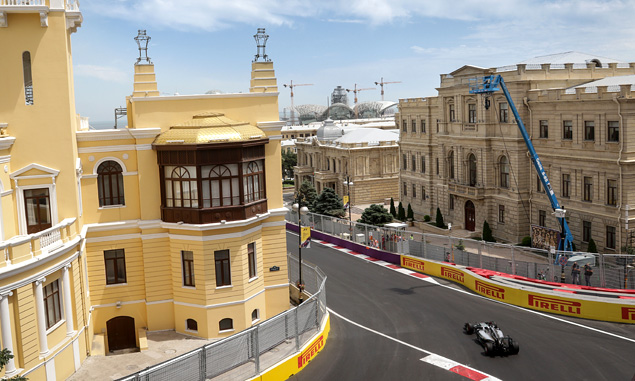 Follow all the action from this year's Grand Prix of Europe from Baku, brought to you live from trackside with F1i's comprehensive, as-it-happens coverage.
Nico Rosberg will be starting from pole after keeping his composure in Saturday's qualifying. By comparison his team mate - and main threat for the 2016 world championship title - Lewis Hamilton will be lining up in tenth place on the grid. Having topped all the practice sessions coming into qualifying, he admitted that he had failed to find his rhythm in the afternoon and ended up in the wall during Q3. What can Lewis salvage from there?
Even with Hamilton out for the count, Rosberg still had to dig deep to win pole ahead of a spirited challenge from Force India's Sergio Perez. Unfortunately Perez had crashed in FP3 and needed a gearbox change which means he receives a five place grid penalty today, dropping him from a well-deserved second place all the way down to seventh place for today's start. Carlos Sainz (Toro Rosso) and Kevin Magnussen (Renault) also have penalties today for overnight gearbox changes.
With Perez out of the picture, the available front row position goes to Red Bull's Daniel Ricciardo. The Australian had his own accident on Friday morning, but the team put the pieces back together again and got him back up to pace for qualifying. Also improving their form after an underwhelming Friday were the two Ferraris, which line up side-by-side on the second row with Sebastian Vettel just ahead of Kimi Raikkonen.
We had expected the other Mercedes-powered cars to feature highly on the grid, but qualifying simply didn't go their way. The highest placed is Felipe Massa in fifth just ahead of Toro Rosso's Daniil Kvyat, while Massa's team mate Valtteri Bottas joins Perez on row four after his Saturday was disrupted by his car being damaged by a flying drain cover in FP3.
Red Bull's Max Verstappen starts from ninth alongside Hamilton, while just missing out on Q3 on Saturday were Haas F1's Romain Grosjean and Force India's Nico Hülkenberg. There was deep disappointment at McLaren, when a strong practice showing failed to transfer to qualifying: Fernando Alonso was only 14th, while Jenson Button failed to progress from Q1 for the first time this season and will start from 19th.
A mixed-up grid, then, and the new Baku City Circuit could also throw a big spanner in the works with its tight corners and superlong straights. Judging from a chaotic GP2 support race this morning, literally anyone could win this race.
One thing that's not in doubt: everyone will going all out this afternoon when the green flag comes out for the start of the Grand Prix of Europe 5pm local time (2pm BST). We'll be bringing you every minute of today's action live and as-it-happens from trackside on F1i's live commentary page. Join us and make sure you don't miss out on a thing!
QUALIFYING REPORT: Rosberg secures Baku pole as Hamilton crashes out
Silbermann says ... Ballrooms and having a ball in Baku
Chris Medland's 2016 Grand Prix of Europe preview
Keep up to date with all the F1 news via Facebook and Twitter