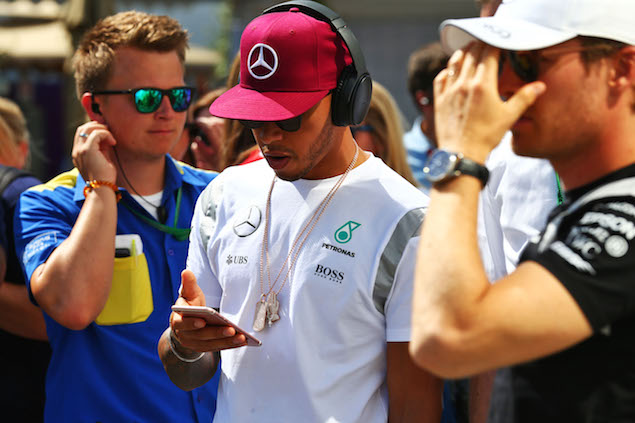 Former grand prix driver turned TV pundit Franck Montagny says reigning world champion Lewis Hamilton appears to be "less diligent and focussed" this year, after the Mercedes man had another challenging weekend in Baku.
It has not been the easiest title defence for Hamilton in 2016, with the 31-year-old suffering a raft of engine-related problems while also experiencing sluggish getaways that resulted in costly first-lap contacts.
After eight of the 21 rounds scheduled this season, the Briton sits second in the Drivers' standings with two wins, 24 points adrift of team-mate Nico Rosberg who is on five victories.
"Hamilton has had a difficult first half to his season, with several technical issues," Montagny wrote in his latest column for French publication Le Point.
"But he managed to remain upbeat and convincing. It worked out pretty well since he made up a big part of his deficit in just two races [Monaco and Montreal]. In Baku however, he seems to have taken things too lightly: he thought he could easily beat Rosberg.
"Hamilton appears to be less diligent and focussed than he used to be in the past. In Azerbaijan, he came off as overconfident by relying on his sole talent after he decided to spend little time in the simulator.
"You can see he is making mistakes, that pressure is creeping in. Hamilton is very active off track and it looks as if F1 has become boring for him. It could harm his chances in the long run."
Montagny, who made seven grand prix starts for Super Aguri in 2006 and served as test driver for Renault, Jordan, and Toyota, adds that Rosberg has come of age in the mean time.
"I think Nico has changed a lot since last year. He is focussed on his job and seems to handle pressure better. He does not get drawn into Hamilton's mind games and manages to steer his own course. And it's paying dividends!
"Rosberg could have been unsettled after his two consecutive defeats but he prepared Baku very well, be it in the simulator or with his engineers. He's gained in maturity this season."
Scene at the Grand Prix of Europe
Grand Prix of Europe - Driver ratings
Keep up to date with all the F1 news via Facebook and Twitter