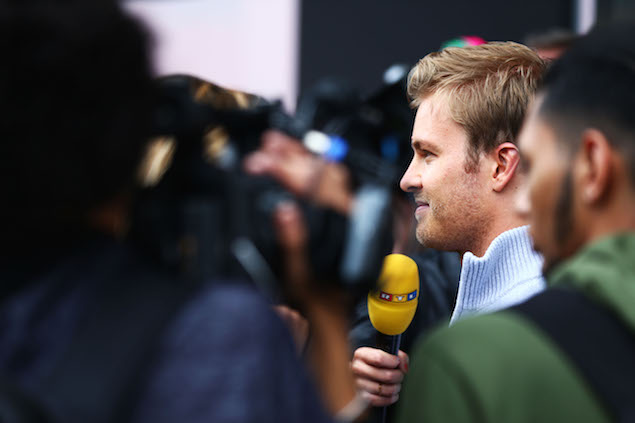 Nico Rosberg describes racing Lewis Hamilton as "the biggest thrill", as Mercedes decides not to impose team orders following the pair's final-lap clash in Austria.
The German constructor convened a crunch meeting ahead of the British Grand Prix to decide on whether its two drivers would still be allowed to race freely. Mercedes eventually kept the status quo, though it added "much greater deterrents to contact".
Having said last weekend that he would be ready to accept team orders, Rosberg was asked at Silverstone if the rationale was to protect his 11-point lead over Hamilton in the championship.
"I don't see why it would be to my advantage or why I would even want it, because the exciting thing out there is to race and to race Lewis and to battle and beat him," the 31-year-old replied.
"That's where I get the biggest thrill, that's what I love and that's what I'm here for, so such a thought did not come to my mind.
"I strongly dislike team orders, if I may say, but it's a part of the game and always will be – like it was in Monaco [Rosberg let Hamilton through to chase race leader Daniel Ricciardo because he was struggling in the wet].
"The great thing for all of us is that we are still definitely free to race, which is what we all want because we want to battle out there. So that still remains nearly unchanged and that's the most important, isn't it?"
However, Rosberg remained tight-lipped on the exact nature of Mercedes revised rules of engagement, refusing to explain the impact these would have on wheel-to-wheel racing at the start of races for instance.
"That's really details that I don't want to go into. I don't want to go into the exact written details of the rules of engagement because that is an internal matter. Please respect that."
Chris Medland's 2016 British Grand Prix preview
Scene at the Austrian Grand Prix
Breakfast with ... Alexander Rossi
Keep up to date with all the F1 news via Facebook and Twitter