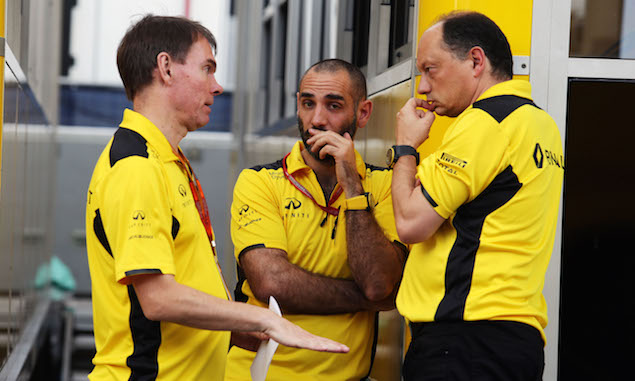 Cyril Abiteboul says the results Renault has been achieving does not do the team justice for the effort it is putting in.
Renault is currently ninth in the constructors' championship having scored on only one occasion courtesy of a seventh place for Kevin Magnussen in Russia. Managing director Cyril Abiteboul insists a lot of work is going on in the factories to benefit Renault in future and says the recent race results are not a fair reflection of its efforts so far.
"The results we see on track at the moment don't do justice to the amount of work and progress that is going on behind the scenes at Enstone and Viry," Abiteboul said.
"We are steadily building the team and recruiting more people and our rate of development is high. We saw this during the Silverstone test when we trialled some new aero and suspension parts that we hope will bring some added performance to the car.
"Our focus, however, remains our mid and long-term goals and we continue to put a lot of effort into this. That's not to say that 2016 isn't important as a significant amount of resources are still going into racing this year. The results are not necessarily impressive, but we are learning lessons all the time that will serve us well in the future."
And Abiteboul warns the next race in Hungary is likely to be another struggle for the team.
"We look forward to Budapest, but know that the challenge will be big. Slow, twisty circuits don't necessarily suit us well, but – as I said before – every lesson learnt, however harsh, gives us information for the future."
From the cockpit: Felipe Nasr on the green grass of home
Scene at the British Grand Prix
Silbermann says ... Radio Ga Ga
Keep up to date with all the F1 news via Facebook and Twitter