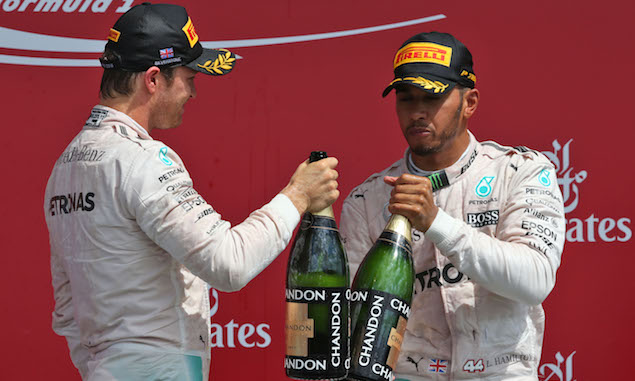 Nico Rosberg says he is not concerned by recent form which has seen Lewis Hamilton win four of the last five races as the two fight for the drivers' championship.
The German won the opening four rounds of the season before the pair collided at the start of the Spanish Grand Prix with Rosberg leading, and since then Hamilton has picked up victories in Monaco, Canada, Austria and Great Britain. The latest race at Silverstone saw a gearbox problem hamper Rosberg and eventually demote him to third due to a radio messages penalty, while he was leading at the start of the final lap in Austria before a collision with Hamilton saw him finish fourth.
Reflecting on the opening ten races, Rosberg says he is not frustrated by recent results because he is taking an overall view of the season so far which shows a close battle between himself and his team-mate.
"[I'm] taking the glass half-full view of it which has been a very good first half of the season and leading the championship, so it's been a pretty damn good start to the season which I'm pleased about," Rosberg said.
"I've had some good races, I had a good race in Austria which went wrong, yeah it can happen and then a good run out there in the dry [at Silverstone], well not so much in the beginning of the race, so there's a lot of positives.
"Anyway I'm feeling great and the battle is on with Lewis, I'm not counting points because it's still such a long way to go and I don't like to do that. For me, the best thing is to win races, which is what I want to do at the moment, just focus on the races and don't look at what is going to happen in six months' time."
Rosberg's advantage over Hamilton stood at 43 points following their collision in Spain, but he now leads the championship by just one point. This week Hamilton said there are details from the Spanish Grand Prix clash which he will keep secret until after he retires from F1.
FEATURE: Red Bull Racing: Be My Guest
From the cockpit: Felipe Nasr on the green grass of home
Scene at the British Grand Prix
Silbermann says ... Radio Ga Ga
Keep up to date with all the F1 news via Facebook and Twitter