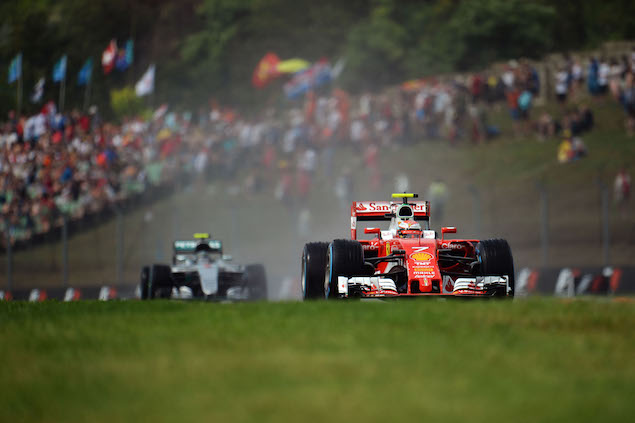 Kimi Raikkonen says he dropped out of Q2 because he started his final run earlier than his rivals on a drying track, with the Ferrari ace ultimately qualifying 12th for the Hungarian Grand Prix.
With weather conditions quickly getting better following a very wet start to the session, drivers switched to slicks in Q2. As the chequered flag fell on the middle segment of qualifying, nearly all cars still running managed to eke out one more lap.
Raikkonen was the first of the front runners to complete his final attempt and briefly held the top spot. But the Finn was quickly bumped out of the top 10 and prevented from taking part in the fight for pole position after a late flurry of improvements.
"The lap time was good when I did it, but a few seconds later it was not good anymore," Raikkonen analysed afterwards. "It was getting drier and faster all the time, so it was one of those things that are part of the game.
"Sometimes you get it right, sometimes you don't. today it was about timing, managing to finish the lap before the red flags and you cannot plan for those things. Sometimes you can a bit lucky, sometimes not – that's how it goes.
"For sure it's a shame where we ended up, because the car has been very good today even in the wet. Whatever the reasons were it makes no difference."
Despite his midfield grid slot, Raikkonen, who has already stepped seven times on the podium in Hungary, is confident his Ferrari has the pace to help him recover to secure a strong points haul.
"Our position is what it is right now and obviously doesn't make it easy for the race, it's not ideal for [Sunday] but I'm sure we can work something out.
"First we have to make clean first few corners and go from there. The speed is there.
"Obviously it's not the easiest place to overtake but we've seen in the past that it's possible. For sure we're not going to have an easy life but I'm sure we can come out with something that will improve our position."
REPORT: Rosberg snatches pole after dramatic qualifying
AS IT HAPPENED: 2016 Hungarian Grand Prix qualifying
Silbermann says ... Birds on the wire
Romain Grosjean column: Safety car starts and summer breaks
Keep up to date with all the F1 news via Facebook and Twitter