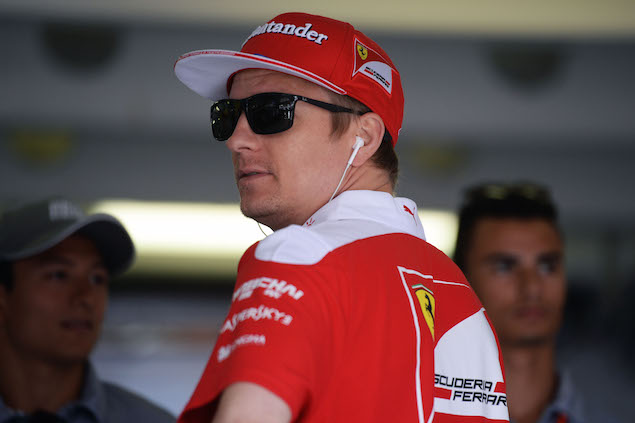 Kimi Raikkonen was left frustrated with what he perceives to be a lack of consistency in the enforcement of penalties from Formula One race stewards following his contact with Red Bull's Max Verstappen in the Hungarian Grand Prix.
With Raikkonen on fresher tyres in the closing stages of the Budapest race, the Finn quickly closed the gap to the Red Bull in fifth place ahead of him. Things hotted up quickly and the tension climaxed when Raikkonen damaged his front wing endplate after lunging on the inside of Verstappen and hitting his car into Turn 2.
"For me, he moved once right and I decided to go left but when he moved back, I did everything that I could to avoid any contact," Raikkonen said.
"Once I decide to go somewhere, you cannot just come there. It was good that I managed to somehow half-missed him because I lost part of the front wing.
"Why do we have rules if stewards can decide 'here it's OK, there it's not OK'. What's the point of having so many rules if it does not apply all the time for all the people?"
While pleased to have recovered from 14th on the grid to sixth at the flag, the 2007 world champion admits he was hungry for more given how competitive his SF16-H felt around the Hungaroring.
"I had a good car, very good car. But unfortunately after qualifying we were in a position from where we could not get the result that the car could deliver.
"We knew that it was not going to be easy. We did more or less the maximum we could. If I had got past Max, we could have even gone further but that did not happen and in the end we were sixth.
"It was a bit disappointing in a way because the car was working well, it was nice to drive but after qualifying this is more or less what we expected."
REPORT: Hamilton holds off Rosberg to take championship lead
AS IT HAPPENED: Hungarian Grand Prix
Silbermann says ... Birds on the wire
Keep up to date with all the F1 news via Facebook and Twitter