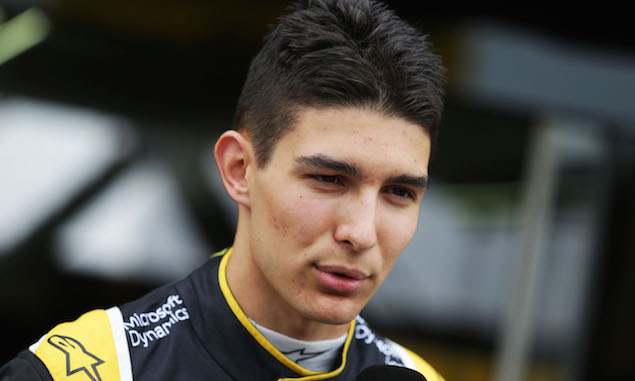 Esteban Ocon will race for Manor for the rest of the 2016 F1 season after Rio Haryanto's funding failed to materialise.
Haryanto has been working to secured additional funding from the Indonesian government, with Manor allowing the 23-year-old to race in Germany before moving to secure its future line-up during the summer break. Renault third driver Ocon - who is still part of the Mercedes young driver program - has been given the seat and will race alongside fellow Mercedes protege Pascal Wehrlein for the rest of the season.
"I'm thrilled that I'll be making my Grand Prix debut with Manor Racing later this month, and at Spa, of all circuits, which is the next best thing to my home race," Ocon said. "I'm ready for this exciting step up, thanks to the experience I've gained as a Formula 1 Reserve Driver this season. I'd like to thank Renault Sport F1 Team and Mercedes-Benz for working together to make this happen, and to Manor Racing for the opportunity, which I'm going to grab with both hands.
"I've visited the Manor Technical Centre already, for my seat fit and to meet with the wider team, so we'll be ready to hit the ground running after the summer break. They've done a great job this season and I'm excited that I've been tasked with helping them to build on that progress. I can't wait to get started!"
The Frenchman has made a number of Friday practice appearances for Renault already this season, and Manor racing director Dave Ryan says the team needed a high quality replacement for Haryanto as it attempts to defend tenth place from Sauber in the constructors' championship.
"We are very pleased to welcome Esteban to Manor Racing for the remainder of the season," Ryan said, "He is clearly one of the rising stars of F1, shining in his Reserve Driver role with Renault, while also competing in the DTM with Mercedes-AMG this year.
"Our team has made significant strides in 2016, including finishing in the points for the first time in Austria last month. We need to maintain our pace of development in order to achieve our ambitions, not only for this season but also for the longer-term, so the calibre of a replacement is key. We're confident that when Esteban makes his Grand Prix debut in Spa, we will have a very potent line-up with which to take the fight to our immediate competitors for the rest of the season."
Haryanto has been retained as a Manor reserve driver following improving performances throughout the season.
Explaining the F1 summer break
2016 technical review: Sun, sea and tech
Chris Amon: A legend's career in pictures
Keep up to date with all the F1 news via Facebook and Twitter