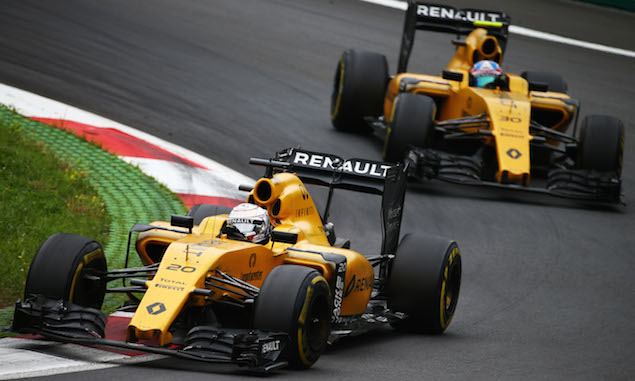 Renault team principal Frederic Vasseur says his team is likely to make a decision on its 2017 driver line-up "at the beginning of September".
Kevin Magnussen and rookie Jolyon Palmer have led the team on its return to F1 following Renault's takeover of Lotus in December, with Magnussen scoring its only points so far this season in Russia. Vasseur says both drivers are improving as the year goes on while the team tries to rebuild following a number of years of financial difficulty.
"It's not easy for them either," he told the official Formula 1 website. "They have been used to winning in the past - and now they are cut off from that.
"I see both of them improving. Keep in mind that Jo is a rookie and Kevin did only one season [of F1] before - and that was two years ago.
"Jo has been improving a lot - true he spun in Hungary, but so far he did a good job. And that also goes for Kevin. Both have a very optimistic approach. They are a good support for the team."
However, Vasseur believes future success for Renault will need to come with a lead driver as the focal point for the team.
"If you look at the success stories of the past, success was always built around a driver: [Michael] Schumacher and Ferrari, [Sebastian] Vettel and Red Bull, Lewis [Hamilton] and Mercedes, and also [Fernando] Alonso and Renault in the past - so the driver is important.
"A driver is not only about performance, but about being capable of leading a team. Right now we have more or less a thousand people in the team, if you take Viry and Enstone together, and that needs some sort of emotional leadership - and that is the job for a driver! We need a driver who is super-motivated and able to super-motivate everybody else."
Asked if Magnussen and Palmer fit the criteria, and when a decision might be made on next year's line-up, Vasseur replied: "They are improving!
"We know we are on the grid, so 'improving' is written in capital letters for us. It is too early to make any decision right here and now. We will probably do it at the beginning of September."
The Italian Grand Prix takes place on September 4, with the final race of the European season forming a back-to-back with the Belgian Grand Prix at Spa-Francorchamps.
Silbermann says ... No hope for an Olympic Grand Prix
FEATURE: Romain Grosjean answers your questions
F1i Classic: The unforgettable Harry Schell
Exclusive F1i interview with Carlos Sainz
Keep up to date with all the F1 news via Facebook and Twitter