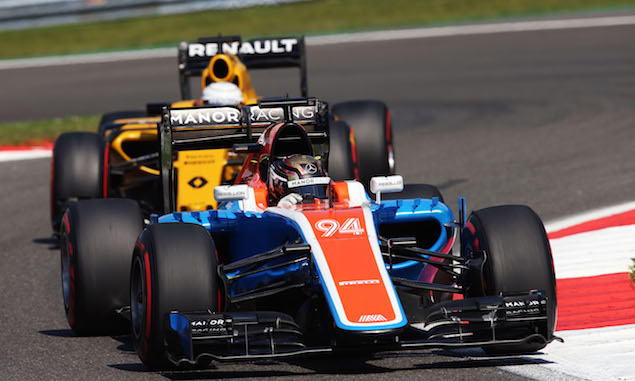 Pascal Wehrlein felt he could have reached Q3 for the first time during qualifying for the Belgian Grand Prix but was limited by tyres.
Manor has been competitive throughout practice and Wehrlein finished Q1 in the top ten, increasing the belief that the team could fight for a spot in Q3. Eventually the German rookie qualified 16th after aborting his first run due to a loose tyre, but when asked if Q3 had been a possibility, Wehrlein replied: "Yes, definitely.
"After Q1 I felt like the car is there and even myself, my confidence was there to go into Q3 but as we already knew we had to compromise our strategy this weekend because of the tyre choice. So there were only two new sets for qualifying available for us.
"So in Q2 I had to go out on a used set and of course it was a lot slower than Q1, which is normal because this track has lots of degradation and lots of overheating from the tyres. It's a bit unfortunate but now we are in a good position for tomorrow with the tyres and that's the most important thing.
"But today I really felt like I was close to going into Q3 or somewhere around there, so of course then when you finish P16 it's not unlucky but a bit disappointing still because you know what would have been possible."
Wehrlein was also pleased to get the better of new team-mate Esteban Ocon, outqualifying the fellow Mercedes youngster by half a second.
"Yeah as I've said before he's a very highly-rated driver and to beat him by half a second in qualifying was very good and I'm happy with that.
"Maybe now you can see that Rio [Haryanto] was actually very good and performing really well and I feel like today he could have done the same, so I think everyone underrated him or underestimated what he could do. I feel a bit sad for that because actually he was a good team-mate and he did a good job."
Silbermann says ... Spa too hot
Romain Grosjean column: More motivated than ever
Chris Medland's 2016 Belgian Grand Prix preview
Keep up to date with all the F1 news via Facebook and Twitter