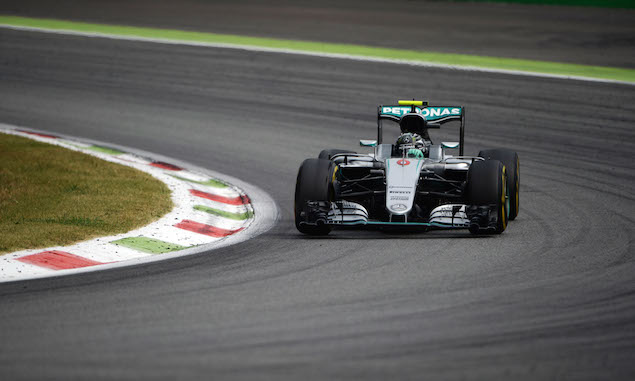 Nico Rosberg says Mercedes is braced for a "very challenging" Singapore Grand Prix weekend, after the reigning Constructors' champions endured their toughest outing in the current 1.6-litre V6 turbocharged era at Marina Bay.
Having shown its usual dominance at most other circuits, Mercedes never was in contention in Singapore last year, as it struggled to exploit Pirelli's soft and supersoft compound during Formula One's night race.
Rosberg was a quiet sixth on the grid, one spot behind team-mate Lewis Hamilton, and could only manage fourth in the race.
"Singapore we can't go there with too much confidence, because we were miles off last year, in qualifying I think it was 1.8 seconds [1.5s] if I'm not mistaken," said Rosberg after winning last Sunday's Italian Grand Prix.
"That is huge. So it's our most difficult race, Singapore, in the past years, so it's going to be a very challenging weekend for us. We think we've made progress but 1.8 seconds that's not going to be easy to improve."
This proved to be the only major hiccup in another stellar season for the German constructor, which launched an investigation to get to the bottom of its Singapore GP issues. Mercedes engineering director Aldo Costa is confident the probe will have paid dividends.
"After last year in Singapore, we did a very deep analysis," he told Sky Sports F1 at Monza. "We hope to have understood, to go there and consider it as a normal race for us."
Pirelli will once again bring its softest tyre allocation to Marina Bay, with the official supplier making its soft, supersoft, and new ultrasoft compound available to teams and drivers.
DRIVER RATINGS - 2016 Italian Grand Prix
RACE REPORT: Rosberg wins at Monza to cut Hamilton gap to two points
COMMENT: McLaren's 2017 driver line-up: A stroke of genius?
Keep up to date with all the F1 news via Facebook and Twitter