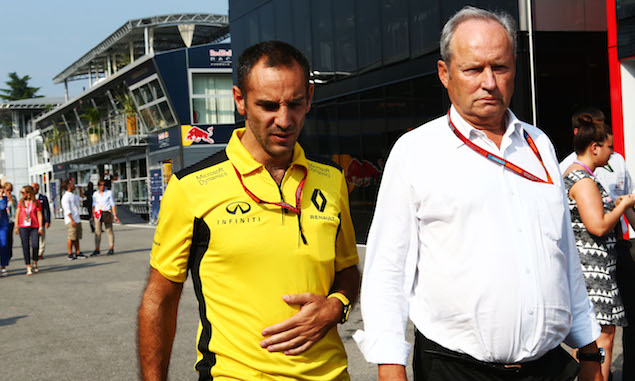 Renault managing director Cyril Abiteboul says there will be no revolutions when it comes to the French manufacturer's engine performance this season.
Red Bull has suggested Renault will be introducing an updated power unit at the Singapore Grand Prix, with the power unit supplier still having 21 development tokens to use this year. Abiteboul has made clear in the past that any of Renault's improvements are not necessarily related to token spend, but he has warned not to expect a major step forward from the upcoming upgrade.
"I've always said that as far as I'm concerned there is really a complete disconnection between tokens and performance," Abiteboul told F1i. "That's why Renault was in favour of taking away the token system and that's going to happen next year.
"Frankly we might see ourselves using a little bit of tokens just to simplify the process of homologation of a couple of things that we could maybe have done without the tokens. The token system is so complex anyway that there are some things you can do either with tokens or without tokens.
"We are going to make our life easier by not having to go through the administrative burden of the fair and equitable process and use a couple of tokens. But frankly there are not going to be any revolutions to this year's engine performance."
However, Abiteboul is eyeing a big step forward over the next 12 months, setting the target of seeing a Renault-powered car on the podium at Monza in 2017.
"The engine has to improve and that's our intention, that's what we have in the pipeline. But again, we were just in Monza, it's a power track and we are not on the podium and that's not nice. When I say 'we', there is no Renault engine on the podium. Next year I want to have a Renault engine on the podium, that would be very nice."
Power unit development tokens remaining:
Ferrari: 0 (32 used)
Honda: 3 (29 used)
Mercedes: 6 (26 used)
Renault: 21 (11 used)
Scene at the Italian Grand Prix
2016 Italian Grand Prix - Quotes of the week
DRIVER RATINGS: Italian Grand Prix
Keep up to date with all the F1 news via Facebook and Twitter