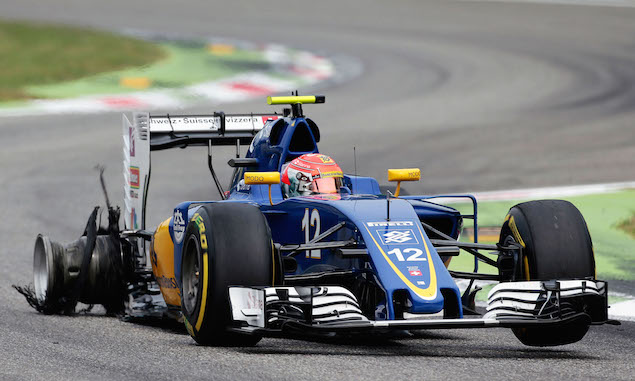 Felipe Nasr says next weekend's Singapore Grand Prix will provide a number of key answers for Sauber regarding how its development is going.
Sauber was taken over by Longbow Finance in July and has been able to push ahead with planned development of its car as a result. While the last two races have taken place on low downforce tracks, Nasr says Singapore will show just how much progress has been made with the car or if any further plans need revisiting.
"We have to see how much we are still going to be investing on this car, be putting focus on the car, or are we going to switch focus to next year?" Nasr said. "Running the car in Singapore, for the first time having the maximum downforce in the car because that track requires it.
"I want to see where we are going to be in terms of the efficiency of the package, how much is it really helping the car? Because until now, we only have data analysis from two tracks where we have been running medium- to low-downforce. Singapore will be the first time we really run the full package."
And Nasr also feels he has been unlucky so far in the two races since the summer break, limiting his own personal understanding of the updated car.
"Yeah, in the last two rounds… I got a puncture in the last one [in Spa] and got hit [in Monza]. As I said, I'm really hoping that in Singapore we get a clean weekend, putting all the work we do on Friday, again qualifying in recent rounds has been really good.
"We have been understanding the car, getting the car in the right window in terms of setup, getting the new package to work in a better way. We've seen the steps. All I want now is to have a proper clean race in Singapore and let's see where we end up."