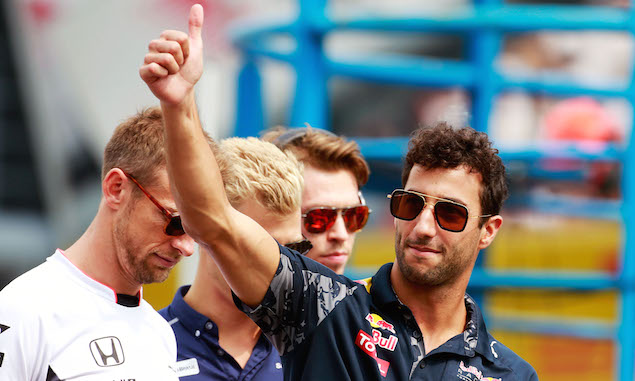 Red Bull ace Daniel Ricciardo has singled out this weekend's Singapore Grand Prix as the event that offers him the best chance to make up for the disappointment of missing out on victory at Monaco earlier this season.
The Australian was dominating from pole position in Monte Carlo last May when a botched pit stop from his team allowed Mercedes' Lewis Hamilton to move up into the lead and eventually claim F1's most coveted race.
Ricciardo has continued to deliver a very strong campaign since then, scoring points at every round while also adding a treble of podium finishes over the summer.
"I don't believe in much, but if there is a little bit of karma or whatever, I'd like to think that I will get my Monaco win back somewhere," Ricciardo said. "Singapore is a track which I want to [win at].
"I don't expect to be handed a victory, absolutely not, but I feel if I work very well across that weekend, then it should hopefully provide me with a chance. So Singapore is one I am looking at."
Red Bull's form at Singapore in recent years suggests Ricciardo and team-mate Max Verstappen will be genuine threats at the Marina Bay Circuit.
The 27-year-old secured third at Marina Bay Circuit for his first season with the team in 2014, and finished less than 1.5s behind 2015 winner Sebastian Vettel 12 months ago.
TECHNICAL: Under the skin of the Red Bull RB12
2017 F1 driver line-ups so far
F1i Classic: 'Gentleman Jo' Bonnier
Silbermann says ... A letter to Chase Carey
Estimated F1 driver salaries for 2016
Keep up to date with all the F1 news via Facebook and Twitter