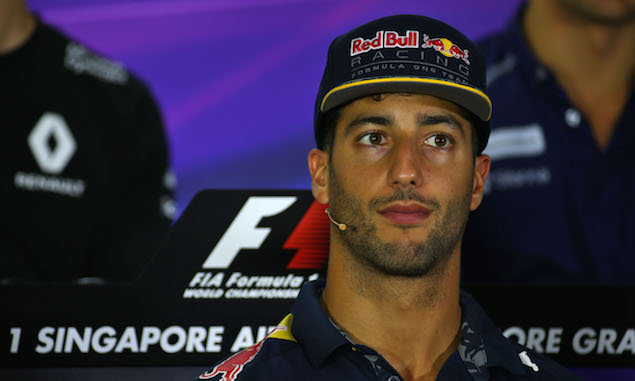 Daniel Ricciardo says he has noticed improvements in how he and Red Bull have executed their race strategy since the Australian missed out on winning the Monaco Grand Prix in heart-breaking fashion.
Ricciardo was robbed of a likely victory at Monte Carlo due to a tyre mix-up and botched pit-stop from his team. The 27-year-old has pinpointed this weekend's Singapore GP as the event that offers him the best chance to make up for the disappointment.
In the aftermath of the blunder, Red Bull promised Ricciardo there would be new parameters implemented to prevent it from happening again.
"[Singapore] is obviously the next closest track to Monaco, so sure we look at it as a good chance to try and get the victory I am after this season," Ricciardo told reporters during Thursday's FIA press conference.
"But the team, since Monaco, a lot of things have been working better in terms of how we have been executing on a Sunday. I have left Sundays feeling a lot happier in the last handful of races. That's been good, on both sides. I feel I've executed as well good things on Sundays."
Given his and Red Bull's fine form in Monaco and successful history at Marina Bay Circuit, Ricciardo has been tipped as a favourite for the win in Formula One's night race.
"I am not going to put too much pressure on myself or them this weekend but I think deep down we obviously want to win," he further commented.
"I believe we are a group of winners. If there's a bit of pressure on us this week to get it done, then I think we'll thrive. Let's see what happens but I am definitely prepared and excited."
Romain Grosjean column: Drivers have a certain shelf like
Chris Medland's 2016 Singapore Grand Prix preview
TECHNICAL: Under the skin of the Red Bull RB12
2017 F1 driver line-ups so far
Keep up to date with all the F1 news via Facebook and Twitter