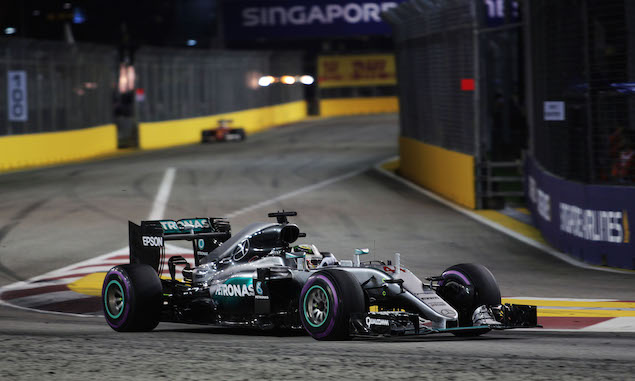 Lewis Hamilton says he has "no reason" to doubt he will hit back at Nico Rosberg in the drivers' championship with six races remaining.
While Hamilton was hampered by engine penalties in Belgium and a poor start in Italy, the defending champion endured a difficult weekend in Singapore while team-mate Rosberg excelled to take his third victory in a row. The result saw Rosberg take an eight-point advantage with six races remaining, but Hamilton is confident he will turn the recent results around.
"Singapore was a difficult weekend for me, so to come away with a podium in the circumstances was pretty good damage limitation," Hamilton said. "Ultimately, Nico did an exceptional job and I didn't have my best weekend. But that's the way it goes.
"We're both fiercely competitive. Some weekends he does great, some weekends I do great. It's a combination of things that all come together to make a strong weekend and every one is different. I have no idea if the momentum will swing back to me or when it might. But we still have six races left, so I just have to keep giving it my all and hope for the best. That's all you can do as a sportsman.
"It's going to take some good results to get back in front and stay there - but I've had plenty of those in the past, so there's no reason to think they won't come back to me again."
And Hamilton says this weekend's Malaysian Grand Prix represents a good chance to close the gap at a track he usually performs well on.
"Sepang is my first shot at it and I'm really looking forward to getting out there. It's a track I usually go pretty well at - plus we have some really fantastic support from the Malaysian people, including all the guys and girls from Petronas. It should be a great weekend, so if we can get a result to match that would be awesome. Let's see how it goes..."
FEATURE: When F1 team-mates fight for the title
F1i Classic: Sepang 2001 - Ferrari pulls off a masterstroke
F1i's Eric Silbermann asks what Nico Rosberg has to do to get the credit he deserves
From the cockpit: Felipe Nasr on lights and shadows in Singapore
Keep up to date with all the F1 news via Facebook and Twitter