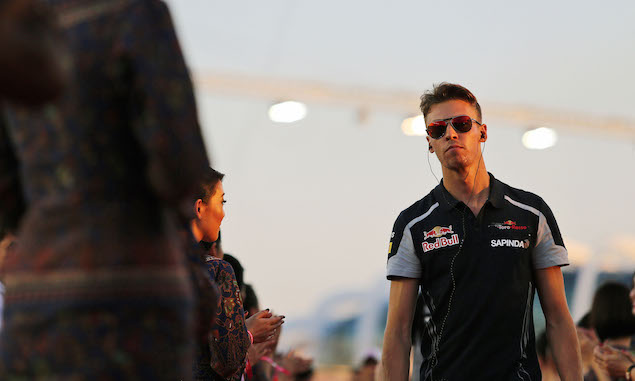 Daniil Kvyat says his confidence and hunger for racing in F1 returned with his performance at the Singapore Grand Prix.
The Russian has been under pressure this season, being replaced by Max Verstappen at Red Bull after four races and struggling since his return to Toro Rosso. Following difficult race weekends in Belgium and Italy the team was much more competitive in Singapore, with Kvyat finishing ninth after a battle in the race with Verstappen.
When it was put to him that the exciting race in Singapore was good for both fans and drivers, Kvyat replied: "Absolutely!
"A Grand Prix like the one we had in Singapore is a race that makes you remember why we are Formula 1 drivers, why we love what we do. I can tell this race made me hungry for racing and attacking again, and that's just what I did until the very last corner of the Marina Bay Street Circuit. I left my soul out there and I enjoyed every single lap of the race."
On the battle with Verstappen, Kvyat said having a well balanced car helped him keep the Red Bull behind.
"I enjoyed it a lot! I loved the battle with Max. I kept him behind for two stints even if he had a faster car both in cornering and straight lines. The STR11 was in a very good shape and we looked after our tyres properly."
And Kvyat says the improvements Toro Rosso made over the race weekend in Singapore helped increase confidence within both himself and the team.
"We, as a team, had some tough races due to our deficit in terms of straight-line speed. We needed a good race to re-gain some confidence in our potential. I, as a driver, feel that my confidence is back as well. I believe in myself and the team: we can do good things together, for sure. I have to be thankful to everybody, as the car was great all weekend in Singapore and they've never stopped supporting me.
"We now have a better understanding of what is going on with the car. In Singapore we saw a clear picture of where we are in terms of performance. Of course the Malaysian Grand Prix will be a tough one for us, but we will try and get the most out of it."
FEATURE: When F1 team-mates fight for the title
F1i Classic: Sepang 2001 - Ferrari pulls off a masterstroke
F1i's Eric Silbermann asks what Nico Rosberg has to do to get the credit he deserves
From the cockpit: Felipe Nasr on lights and shadows in Singapore
Keep up to date with all the F1 news via Facebook and Twitter