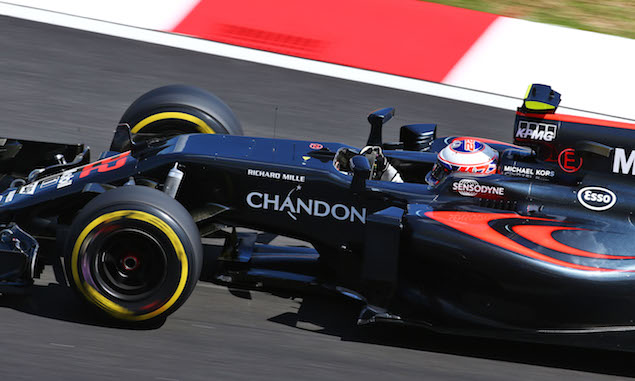 Jenson Button says 10th place in FP2 is not a true reflection of McLaren's pace at the Malaysian Grand Prix, having been hit by traffic on his low fuel run.
Fernando Alonso was fifth fastest in FP1 and then seventh in the second session as he ran an updated power unit, with McLaren looking competitive on Friday. Button joined his team-mate in the top ten but was 0.4s slower than Alonso and says his best lap should have been a lot quicker.
"Tenth place isn't very good," Button said. "We were out very late in FP2 because some of the changes we made to the car took longer than we thought. When I got out the others were running with high fuel loads, I caught up Kevin Magnussen in Turn 10 and he just didn't move, drove around in the racing line and cost me quite a bit in terms of lap time.
"The pace of the car is not too bad over one lap and we can be further up the order. The long runs are a bit trickier but I think we know what we have to do with the balance of the car to make it better."
With a new track surface in Malaysia, Button feels the circuit is a real test as it now has a fine line between success and failure.
"The new asphalt makes it very strange. You get a false sense with the grip, you feel you have a lot of grip and suddenly it's taken away from you. It's very strange, very difficult to read. It feels a lot like Sochi, in a way, so it's tricky. We are the best drivers in the world and we feel when oversteer is coming, but with this tarmac it's quite an unknown – it's very difficult.
"For qualifying we'll all definitively go for the Soft tyres, but what's the best race tyre I don't know. All compounds seem to be working pretty well, the consistency is very good but it should be a bit cooler tomorrow."
FP2 REPORT: Hamilton hits back to lead Rosberg in FP2
Silbermann says ... Bugged by Liberty
Romain Grosjean exclusive column: Haas can build momentum for 2017
Chris Medland's 2016 Malaysian Grand Prix preview
Keep up to date with all the F1 news via Facebook and Twitter