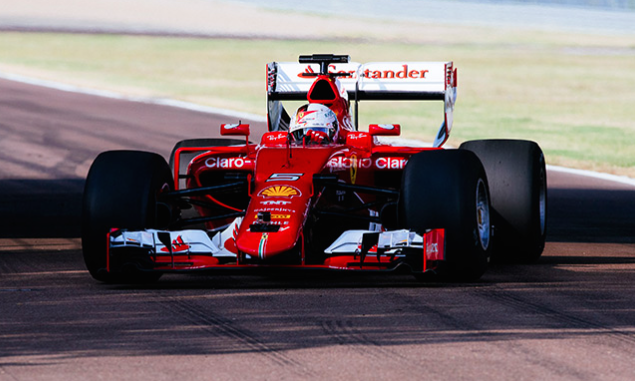 Former Ferrari and McLaren Formula One driver Stefan Johansson has labelled Sebastian Vettel's extensive testing with the 2017-spec Pirelli tyres as "an incredibly smart move" and predicts the four-time world champion will reap some advantage out of it.
With radical rule changes set to be introduced next year, Mercedes, Ferrari, and Red Bull are supplying mule cars that simulate increased levels of downforce to help Pirelli collect valuable data ahead of the 2017 season, which will see wider tyres in action.
Vettel has been busy racking up the miles for the Scuderia in a bid to get a jump start on the competition, as both he and Ferrari seek to return to title glory.
"The fact that Pirelli has Vettel doing testing, making every single run he can make will pay off," Johansson wrote in his latest blog entry. "I've done lots of tyre testing in the past and it's absolutely the best way to move things forward for driver or a team performance.
"Pirelli will love the input that Vettel gives them because engineers want as much input as you can possibly provide. And without a shadow of doubt, those tires will be based largely on his input. As I've said over and over, on race day the tires are more important than any other feature of a car.
"If Vettel gets a tyre that suits his driving style, that he's 100 percent comfortable with, he won't have to spend as much time getting his car to react the way he wants. He'll be able to attack right away.
"It's an incredibly smart move on his part and incredibly stupid on the other drivers' parts not to dedicate the time to testing if it's available to them."
For Johansson, Vettel's willingness to leave no stone unturned in his quest for performance bears strong similarities to a certain seven-time world champion.
"That's exactly what Michael Schumacher did. Every chance he had to test, he took it... and some.
"I remember the Ferrari people used to tell me that if the team had a few days off Michael used to literally call them and tell them that he wanted to test something or that he had an idea for trying something new, asking if they could have his car ready for a test in a couple days.
"This was back when you could test all the time and they just pounded around Maranello continually."
F1i Classic - Masten Gregory - The 'Kansas City flash'
Silbermann investigates the potential EU threat to F1's Liberty Media deal
2017 F1 driver line-ups so far
Keep up to date with all the F1 news via Facebook and Twitter