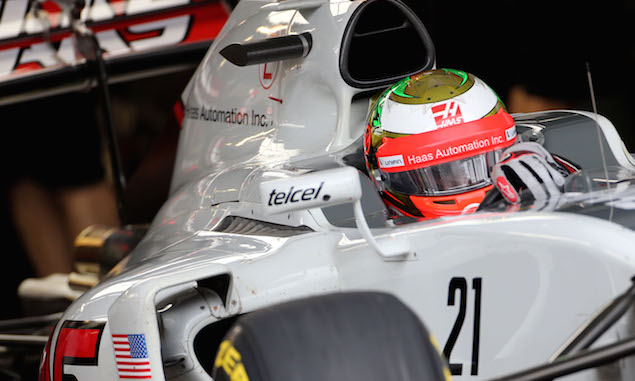 Esteban Gutierrez admits he has been "surprised" by the level of support and understanding Haas F1 Team has shown over his 2016 form and the uncertainty surrounding his future.
Despite running team-mate Romain Grosjean close in qualifying, the Mexican has yet to open his points tally after 17 races this year. Gutierrez has been tantalisingly close on a number of occasions though, securing five 11th-place finishes along the way.
Making his return to a full-time role after one season as Ferrari test driver, the 25-year-old has missed out on a couple of scoring opportunities but also suffered his fair share of reliability issues.
Asked whether he was confident Haas would take these problems into account when assessing his performance, Gutierrez replied: "Yes and I am actually surprised how much they are supporting, it's very positive. When you make a big effort and you see that people realise about it, you perform and they see how you are performing, and they also consider that I didn't have the opportunities.
"Obviously it's also frustrating for them because they want me to be successful, they want me to do good results but they are there behind [me]. We are talking about the guys who are making the big decisions, the very important people, who are very important for my future so it's fantastic."
Gutierrez has repeatedly said he would be on the F1 grid in 2017. Haas remains his best option, especially now that highly-rated development driver Charles Leclers has been ruled out for a promotion. However, the team has remained tight-lipped on its 2017 line-up so far.
"How can I put it in just a few words? It's a matter of coordination basically," Gutierrez added, talking about his future.
"It's very simple, very straightforward, but something very simple is made very complicated so it takes time. Very often as humans we are that way, when life is so simple and straightforward it's complicated.
"We complicate ourselves but now we are focusing on simplifying it and that's what takes a bit of time. There are so many parties involved that need to be on the same line, it takes a bit of time."
F1i Classic - Masten Gregory - The 'Kansas City flash'
Silbermann investigates the potential EU threat to F1's Liberty Media deal
2017 F1 driver line-ups so far
Keep up to date with all the F1 news via Facebook and Twitter