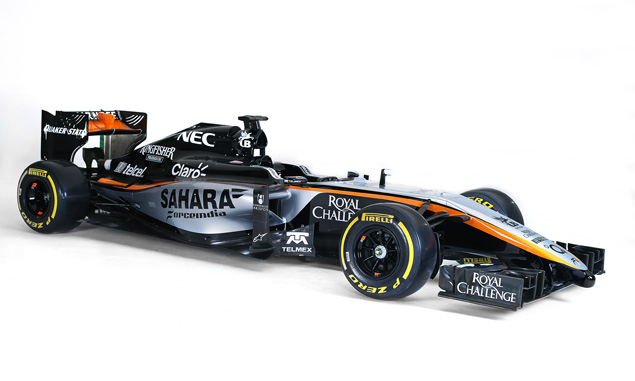 Force India has unveiled its new livery at an event in Mexico City, with a predominantly black and silver colour scheme.
The team launched the new car at the Soumaya museum in Mexico City, with 2015 drivers Sergio Perez and Nico Hulkenberg taking the cover off the livery which adds silver to last year's black and orange colours. The event was supported by team partners America Movil, as well as unveiling new sponsors such as NEC, tequila manufacturer Jose Cuervo and motor oil brand Quaker State.
Team principal Vijay Mallya said he was pleased the new livery provides "a very modern twist" on the traditional team colours
"It's another evolution of the contemporary look we introduced last year, which reflects the growth of the team and the global brands with which we are working," Mallya said. "I love the addition of silver, which makes the car appear more sleek and aggressive and I'm sure it's something that will appeal to the fans as well. Our traditional team colours remain integrated in the livery, but we've given it a very modern twist."
A 2014 chassis was used for the event, with this season's nose on the front of the car. The 2015 car – the VJM08 – is not set to be ready until the second pre-season test in Barcelona, with last year's car being used at Jerez.
Click here to see the full gallery of Force India's 2015 livery launch
Keep up to date with all the F1 news via Facebook and Twitter