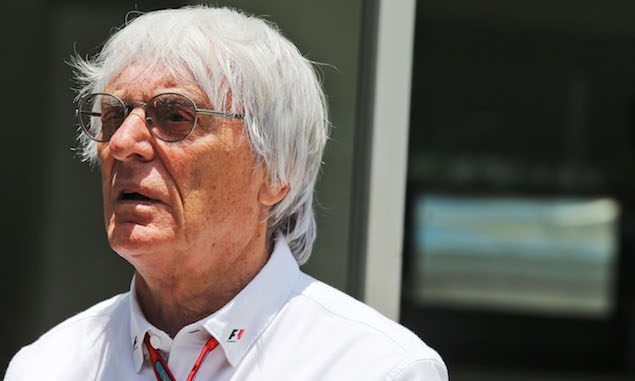 Bernie Ecclestone has cast further doubt over the futures of races in Brazil and Germany, saying they are "absolutely" under threat of not being on the 2017 calendar.
Both races were marked as subject to confirmation on the provisional calendar released in September, with Ecclestone still negotiating with both venues. The Brazilian race organisers stated its surprise at being TBC at the time, saying: "There is a contract in place until 2020 every provision of which will be complied with as it has been for the past 45 years."
However, when asked by Motorsport.com if he would bet on Brazil being on next year's calendar, Ecclestone replied: "I wouldn't put my money on it, I might put yours."
Ecclestone visited Brazilian President Michel Temer on Wednesday - with the race organisers saying he spent two hours at the Planalto Palace - but he says the visit was not used to ask for the race to receive further government support.
"I didn't ask him. I just wanted to meet him and see how he felt, about things in general.
"Did he think that F1 was good for Brazil, or not? It's probably been good for Sao Paulo. Whether it's been good for the rest of Brazil, who knows? I've no idea what he can do as the president. This country is very political at the moment. He's just stepped in.
"They spent a lot of money to have the Olympics and the World Cup, and here [Sao Paulo] hurts a little bit, the promoter trying to run this race, and make a profit, or not make a profit, but not lose. So in the end the people who lose are us, because they can't pay us."
And Ecclestone says the likelihood of the German Grand Prix remaining on next year's calendar is even less, saying "I don't know how we could ever save that race" as Hockenheim attempts to secure a viable deal.
"They're saying, or I think they're saying, 'we'd be prepared to continue with the same terms and conditions that we've had for the last two or three years'. Which are no good for us. We tried to keep them alive, but they've run out of tablets.
"I'll put my money on it not happening. I'll have to talk to them in the next couple of weeks."
The final 2017 calendar is due to be ratified by a meeting of the World Motor Sport Council in Vienna on November 30.
LIVE: 2016 Brazilian Grand Prix weekend
Silbermann says ... I'm going AWOL
Romain Grosjean column: Time for Haas to raise its game
FEATURE: What Rosberg need to do to win the title in Brazil
INTERVIEW: Fernando Alonso: Why F1 is no longer just for heroes
Keep up to date with all the F1 news via Facebook and Twitter